This recipe of lemon cake with berries had to be my first blog post of 2017. That is how much I love it!
A very happy new year to all my readers. I want to thank each one of you for supporting 'Bake With Shivesh'. I had the most amazing New Years eve in Sydney. Besides watching the unbelievably beautiful fireworks, we had a barbeque party with lots of food and this lemon cake with berries. It has two layers of lemon cake filled with a tangy lemon curd, covered with meringue frosting and topped with strawberries, blueberries, blackberries, and raspberries. This cake is basically sunshine on a plate!
To be very honest this lemon cake with meringue frosting tastes so good even without the berries but hey, berries make everything better!
Find the eggless version of this cake HERE.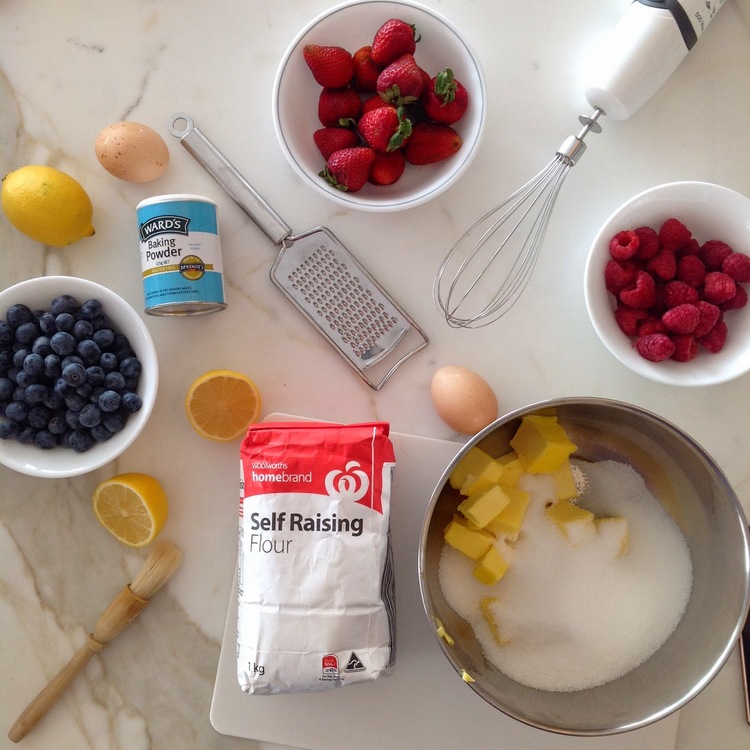 Tips for this easy lemon cake recipe
This a super moist lemon cake recipe and I would not want you guys going anywhere wrong with this beautiful and decadent lemon cake.
Therefore, here are a few notes on the recipe before you get started-
I used self-raising flour. If you are using the regular all purpose flour add 1/2 teaspoon baking soda to the dry ingredients
I used un-salted butter in this cake. If you are using salted butter, do not add salt separately
Let the cake layers cool completely before you start filling or frosting them
While making lemon curd and meringue frosting, it is very important to mix the egg mixture vigorously while it is on the stove to prevent curdling.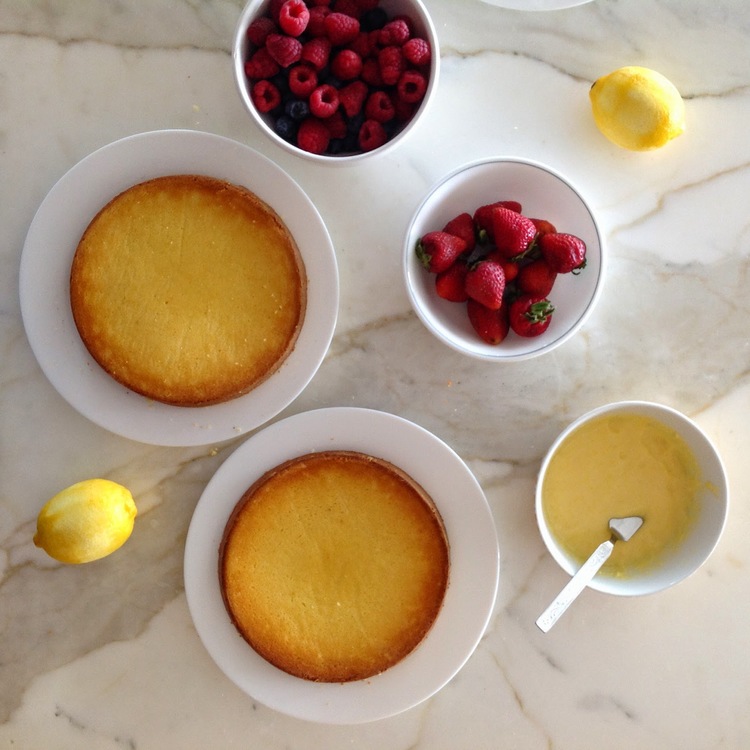 Tips on baking with lemons and using lemons in the right way in your desserts
Most lemon recipes like this delicious lemon cake require you to use lemon zest. In order to ensure that you certainly are extracting the right flavors from your lemon, you need to zest it properly.
while zesting a lemon, ensure that you only grate it until the yellow part. The white part is very bitter and it will change the outcome completely. Also, please remember to thoroughly clean your lemon before zesting as the outer layers contain the maximum amount of germs.
I repeat this time and again and one really needs to remember this tip in order to make it convenient for themselves- zest lemons with the help of a handy micro grater.
Never keep the zest resting and always use fresh zest.

Assembling this lemon cake with berries
To assemble the cake, place one layer of the cake on the serving plate or cake stand. Put a generous layer of lemon curd and place the second layer of cake on it. Cover the top of the cake with frosting. I toasted the frosting on the top to prevent the juice from berries from spoiling the frosting. You can also toast the frosting on the sides by using a kitchen torch.
More amazing Lemon infused recipes
I have always stated my ardent love for lemons in my desserts. I also have beautiful lemon desserts in my book- Bake with Shivesh. If you have not grabbed it until now, get your hands on it here.
You can also try the following lemon recipes and like this indulgent lemon cake, they will not let you down.
Lemon Cake with Berries Recipe
Lemon Cake with Berries (with Eggless Option)
Ingredients
CAKE
1 cup unsalted butter (room temperature)
2½ cups self raising flour
½ tsp baking powder
1 tsp salt
1½ tbsp lemon zest
1 cup sugar
2 eggs
3 egg yolks (reserve the egg whites for the frositng)
2 tbsp fresh lemon juice
¾ cup butter milk
LEMON CURD-
2 eggs
¼ cups sugar
4 tbsp fresh lemon juice
2 tbsp unsalted butter
½ tbsp lemon zest
MERINGUE FROSTING-
4 ggg whites
2 cups castor sugar
¼ cup cold water
Instructions
LEMON CURD-
In a bowl, whisk together eggs, sugar and lemon juice until blended.
Place the bowl over a saucepan of simmering water and stir continuously to prevent curdling
Cook the mixture until it becomes thick and covers the back of ypur spoon. This will take approximately 10 minutes.
Remove from heaat and immediately pour through a sieve to remove any lumps
While the mixture is still hot, add butter and mix until it melts and is well incorporated
Add lemon zest. Cover the mixture and let it cool in the fridge.
CAKE-
Pre-heat the oven to 170C. Oil 2 cake tins and dust them with flour, tapping out the extra flour.
In a bowl, whisk together flour, baking powder, salt and lemon zest. (This is where you add baking soda if you are using all purpose flour) Keep the mixture aside.
In a large bowl, cream together butter and sugar until the mixture becomes pale and light.
Add eggs and egg yolks one at a time. Beat properly after each addition.
Beat in the lemon juice
Alternately add the flour mixture and buttermilk into the wet ingredients. It is very important to not over-mix and mix only until well incorporated
Divide the batter equally and pour into the cake tins. Bake for about 30-35 minutes or until a toothpick inserted into the centre comes out clean.
FROSTING-
Place egg whites, sugar and cold water in a large heat-proof bowl. whisk to combine
place the bowl over saucepan of simmering water, creating a double boiler
Using an electric mixer, beat egg white mixture for 15 minutes or until stiff peaks form.
Remove the bowl from heat. Beat until cooled