Lemon Cake with Berries (with Eggless Option)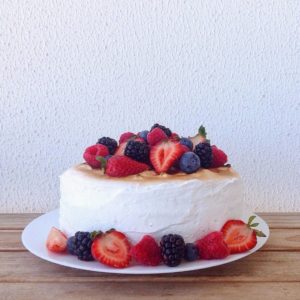 1 cup unsalted butter (room temperature)
2½ cups self raising flour
½ tsp baking powder
1 tsp salt
1½ tbsp lemon zest
1 cup sugar
2 eggs
3 egg yolks (reserve the egg whites for the frositng)
2 tbsp fresh lemon juice
¾ cup butter milk
2 eggs
¼ cups sugar
4 tbsp fresh lemon juice
2 tbsp unsalted butter
½ tbsp lemon zest
4 ggg whites
2 cups castor sugar
¼ cup cold water
In a bowl, whisk together eggs, sugar and lemon juice until blended.
Place the bowl over a saucepan of simmering water and stir continuously to prevent curdling
Cook the mixture until it becomes thick and covers the back of ypur spoon. This will take approximately 10 minutes.
Remove from heaat and immediately pour through a sieve to remove any lumps
While the mixture is still hot, add butter and mix until it melts and is well incorporated
Add lemon zest. Cover the mixture and let it cool in the fridge.
Pre-heat the oven to 170C. Oil 2 cake tins and dust them with flour, tapping out the extra flour.
In a bowl, whisk together flour, baking powder, salt and lemon zest. (This is where you add baking soda if you are using all purpose flour) Keep the mixture aside.
In a large bowl, cream together butter and sugar until the mixture becomes pale and light.
Add eggs and egg yolks one at a time. Beat properly after each addition.
Beat in the lemon juice
Alternately add the flour mixture and buttermilk into the wet ingredients. It is very important to not over-mix and mix only until well incorporated
Divide the batter equally and pour into the cake tins. Bake for about 30-35 minutes or until a toothpick inserted into the centre comes out clean.
Place egg whites, sugar and cold water in a large heat-proof bowl. whisk to combine
place the bowl over saucepan of simmering water, creating a double boiler
Using an electric mixer, beat egg white mixture for 15 minutes or until stiff peaks form.
Remove the bowl from heat. Beat until cooled
Recipe by
Bake with Shivesh
at https://bakewithshivesh.com/lemon-cake-berries/