I love working with pistachios- they're beautiful and lend a great flavor and texture to the cake. Moreover, this eggless pistachio cake uses greek yogurt instead of eggs, which are a splendid substitute for eggs.
I've been baking a lot of desserts with nuts these day and the best part is that the possibilities are endless. There is so much you can do with nuts in the kitchen. So many flavors you can pair with them. Some of my favorite nut desserts from the blog are chocolate hazelnut cake, mini fruit and nut cakes, and the apple-blackberry-walnut cake.
Ingredients of this beautiful Eggless Pistachio Cake
To start with the very basics, this eggless pistachio cake needs crushed pistachios. Obviously, your heads will turn to a food processor and I do second that, however, be careful to not overdo the crushing. By doing so, you will simply end up with a pistachio paste and as fascinating as it sounds, it won't do your cake any good.
Also, do notice that the procedure of baking this beautiful eggless pistachio cake asks you to alternate the dry ingredients with the wet ones and alternate with milk. This is a crucial step. This is because doing so will help us with the saturation of the batter. If you add all the dry ingredients in one go, it becomes difficult to fold the batter. On the other hand, when you choose to alternate with milk, it helps you to maintain and practice control over the saturation of the recipe and is also convenient in whisking it up.
Eggless Pistachio Cake with Rose Syrup
According to me, pistachio and rose combination go really well together. Even though I have not used rose syrup for this eggless pistachio cake, I know that you guys will definitely love to have some rosiness to burst in your mouths with each bite of the cake.
For the rose syrup, you can refer down below.
Ingredients:
1/2 tsp rose essence
2.5 tbsp powdered sugar
3 tbsp water
Procedure:
In a bowl, add all three ingredients. Mix it well so it has a thin consistency.
Using a teaspoon and a silicone brush, brush it evenly all around the cake.
Do not use excess syrup as your cake will end up being too sweet.
Topping the Eggless Pistachio Cake
As you can see, I have finished the cake with some whipped cream and fresh figs. However, you can play around with the toppings. You can try the rose syrup and generously sprinkle roasted pistachios on top. You can also top the cake off with some cream cheese frosting or with some vanilla bean buttercream frosting!
If you bake this eggless pistachio cake or any other eggless cake from the blog, I'd love to see them. Please share pictures with me on my Instagram by using #BakeWithShivesh and I will surely feature you on my profile!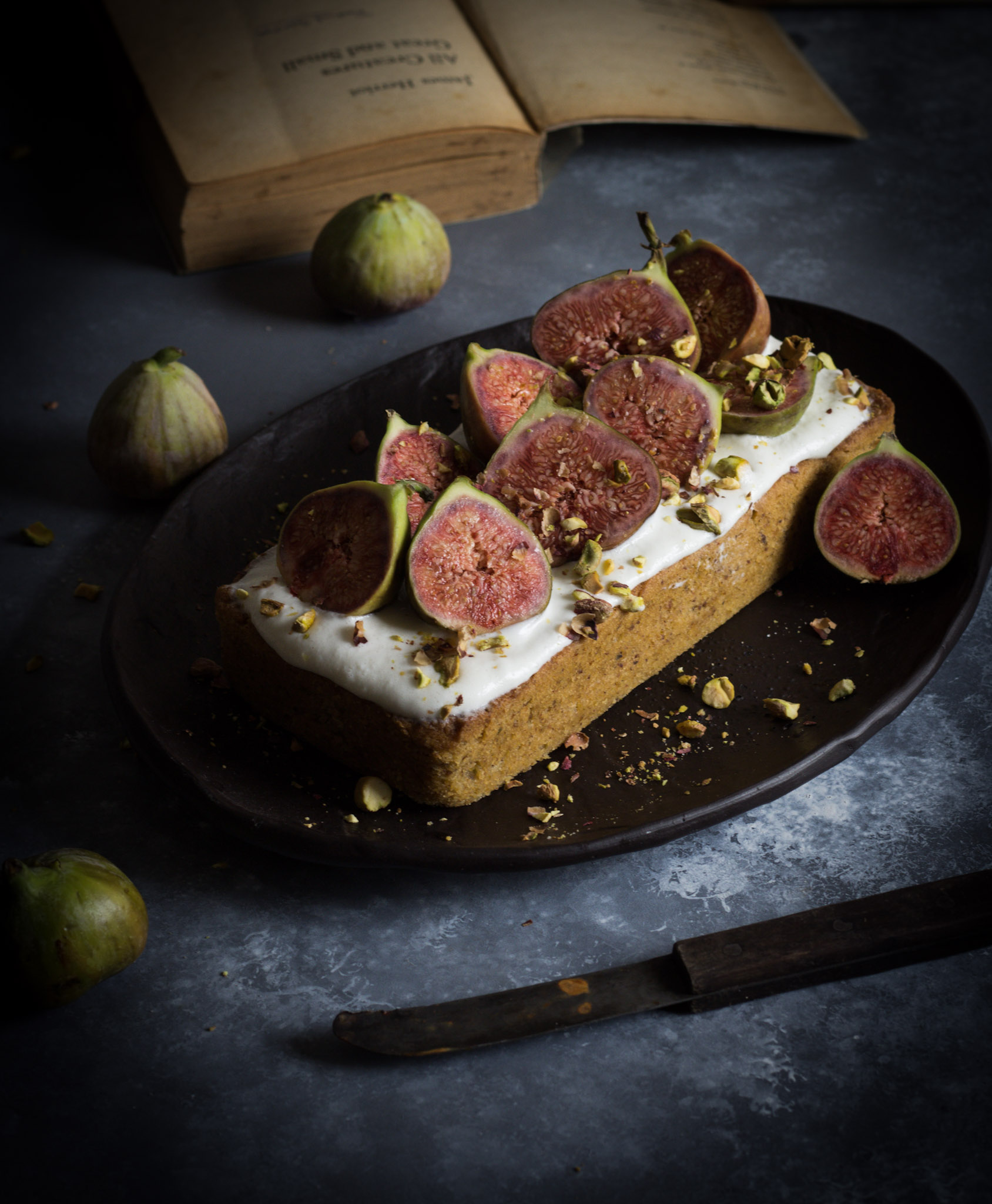 Eggless Pistachio Cake Recipe
Eggless Pistachio Cake
Ingredients
1 cup pistachios
2 cups all-purpose flour
2 tsp baking powder
2 tsp cinnamon powder
¼ tsp grated nutmeg
½ cup butter, softened
¾th cup castor sugar
1 tsp vanilla extract
1 cup thick Greek yogurt
½ cup  milk
Whipped cream and Fresh figs to top
Instructions
Pre-heat your oven to 180C. Prepare a loaf tin and line it with parchment paper
In a food processor, finely crush the pistachios.
Add in the flour, baking powder, cinnamon powder, and nutmeg
In a large bowl, beat sugar and butter until the mixture is fluffy. Add yogurt.
Add in the vanilla and mix well.
Combine dry ingredients to the wet ingredients in three batches, alternating with the milk. Do not over mix. Mix only until well combined.
Divide the batter equally between both the pans and bake for 40 minutes or until a toothpick inserted into the center comes out clean. Once the cake is cool, top with whipped cream and fresh figs.