Eggless Pistachio Cake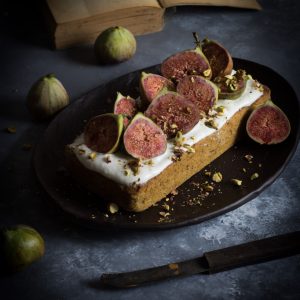 1 cup pistachios
2 cups all-purpose flour
2 tsp baking powder
2 tsp cinnamon powder
¼ tsp grated nutmeg
½ cup butter, softened
¾th cup castor sugar
1 tsp vanilla extract
1 cup thick Greek yogurt
½ cup  milk
Whipped cream and Fresh figs to top
Pre-heat your oven to 180C. Prepare a loaf tin and line it with parchment paper
In a food processor, finely crush the pistachios.
Add in the flour, baking powder, cinnamon powder, and nutmeg
In a large bowl, beat sugar and butter until the mixture is fluffy. Add yogurt.
Add in the vanilla and mix well.
Combine dry ingredients to the wet ingredients in three batches, alternating with the milk. Do not over mix. Mix only until well combined.
Divide the batter equally between both the pans and bake for 40 minutes or until a toothpick inserted into the center comes out clean. Once the cake is cool, top with whipped cream and fresh figs.