How to make the most delicious, single serve chocolate cake without hustle! This recipe is definitely for all those lazy chocolate lovers. My single serve chocolate cake is rich, fluffy, moist and without oven. Yes, you read it right, I am not using the oven to make this single serve chocolate cake and making it in a saucepan over an induction. The crumb of this cake is so soft that it stays for good 4-5 days. You can eat this cake plain, serve it with ice-cream, frost with cream or powder it with sugar, this small serve chocolate cake is absolutely PERFECT, but I like my cake with a chocolate glaze on the top and some pecans.  this cake is an example of how chocolate dreams are made of.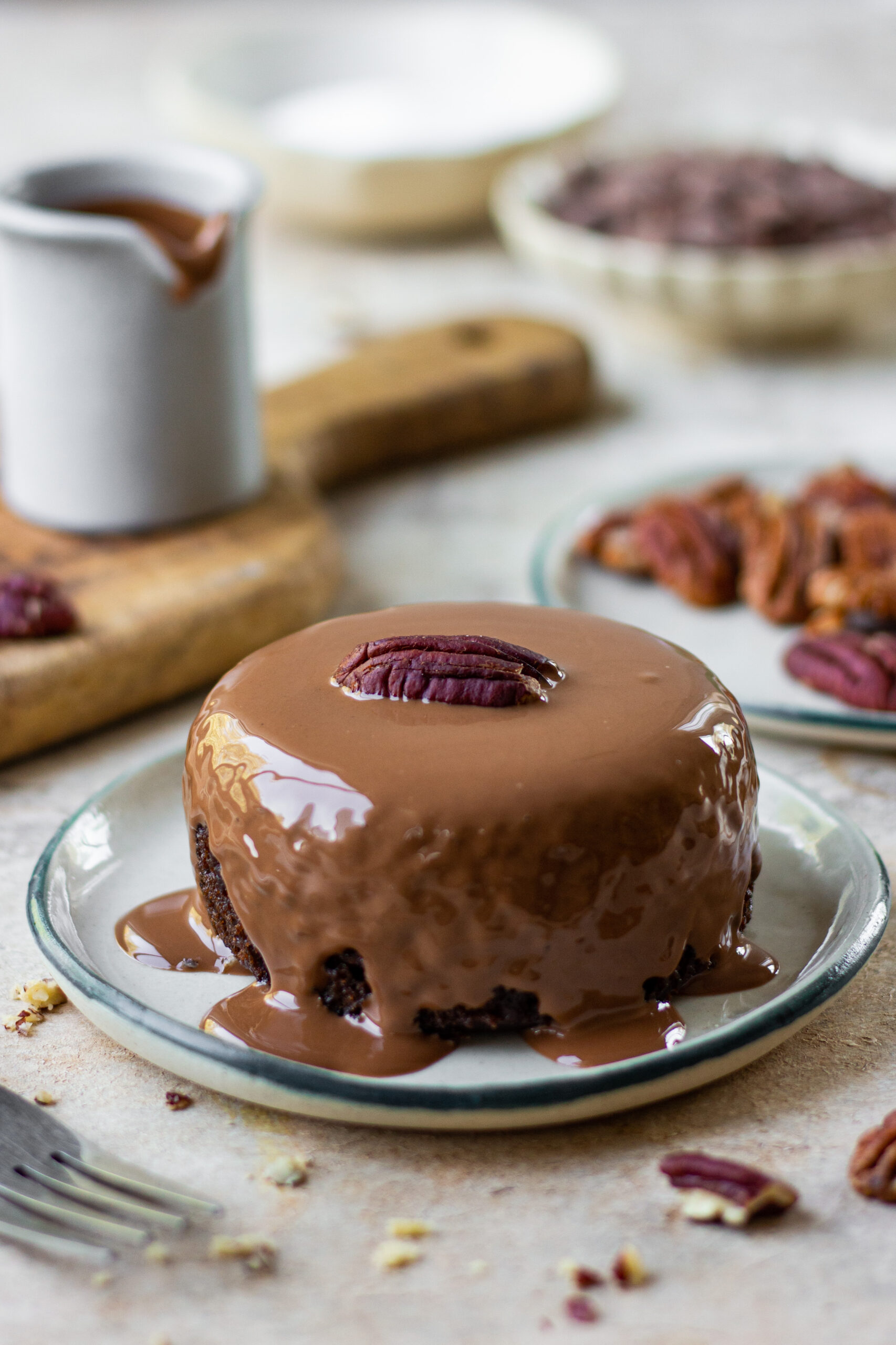 INGREDIENTS USED TO MAKE THIS SINGLE SERVE CHOCOLATE CAKE
Coffee powder
I have used coffee in this recipe to make it more flavorful. If you are not a coffee fan, then you can simply ignore it. 
 COCOA POWDER
Unsweetened cocoa powder is required to make this chocolate cake in a pan. I generally, use hershy's cocoa powder, you can use whichever best you can get your hands on.
 
 SUGAR
For this chocolate cake in a pan, I am using caster sugar as it is perfect for this chocolate cake in
a pan. If you want you can also use the powdered sugar which is made by blending granulated
sugar in the blender. 
 OIL
I am using sunflower vegetable oil here which is flavourless and odourless. I would recommend
using this kind of oil only and no other as it disturbs the texture of the chocolate cake in a pan.
 YOGURT
This single serve chocolate cake in a pan also has yogurt in it to make it fluffier and moister than usual chocolate cakes. Because of cocoa powder, generally chocolate cakes tend to get dry but because of yogurt, this chocolate cake in a pan is very soft. I am using home-made dahi, you can use that or store bought; just take the thick part from the yogurt.
 
FLOUR
I am using all-purpose flour here. If you want you can also use 50% of whole wheat flour with
all-purpose flour to make it healthier.
 BAKING POWDER AND BAKING SODA
For the leavening agents, I am using both baking powder and baking soda here to get the best 
results out of this chocolate cake in a pan. 
TIPS TO MAKE THIS SINGLE SERVE CHOCOLATE CAKE IN A PAN
Make sure to cook the chocolate cake in a pan on an induction and not on the stove as it can




burn the bottom of the cake.

Make sure to cook the cake on the lowest heat possible in your induction.




Use a non-stick pan to make this chocolate cake as to be released easily and if you do not have




it, grease and line your pan with a parchment paper.

 

Always take a heavy bottom saucepan to make this cake as there will be less chances for it to get burnt.

 

Cover your pan with a lid and keep checking it in between and clean the water vapor which tends to collect on the inside of the lid, as we do not want water droplets to fall on our cake.




Let the chocolate cake cool completely before you demould it.

 

My chocolate cake in a pan took 25 minutes but your cake can take longer or lesser time as we




are cooking it on an induction so keep a close eye on the cake.

 

Glaze the cake when its completely cold otherwise it will slide off the cake.

EQUIPMENTS USED TO MAKE SMALL SERVE CHOCOLATE CAKE
The kind of equipment you use when you're baking makes a huge difference to the end result! I would recommend you to use good quality mixing bowls and other equipment so that your eggless marble cake comes out delicious! 
To mix all my ingredients together in, I'm using Borosil's 100% Borosilicate Glass Bowl which is microwave and oven safe, plus the bowls are super easy to clean and handle, which makes my baking process totally hassle free! 
Not a single day goes in my kitchen when I don't use a Silicon Spatula, this is the one I recommend. Same goes for my set of Measuring Cups and Measuring Spoons. 
The induction which has been a part of my kitchen for a really long time is this one, I absolutely love it. It makes my cooking so much easier and hassle free. 
SIMILAR RECIPES ON THE BLOG ARE:
NO OVEN MARBLE CAKE
RED VELVET CAKE WITHOUT OVEN
6 MINUTE VANILLA CAKE
 
SMALL SERVE CHOCOLATE CAKE IN A SAUCEPAN
Ingredients
1+1/2 tbsp water
½ tsp coffee powder
1+1/2 tbsp cocoa powder
3 tbsp sugar
1+1/2 tbsp oil
2 tbsp curd
3 tbsp maida
⅛ tsp baking powder
⅛ tsp baking soda
Pecan for topping
Chocolate Glaze
¼ cup milk chocolate chips
1 tbsp oil
Instructions
In a bowl add hot water, coffee powder and cocoa powder and mix them together.
Into this add sugar, oil and curd and mix them in.
Sift in the all purpose flour, baking powder and baking soda and combine it with wet ingredients gently. Don't overmix at this stage.
Grease the Stahl Mikro saucepan and pour the prepared batter in it.
Switch on your induction and put it on lowest heat possible. Put your stahl mikro pan on the induction and cover it with a lid/plate. Let it bake for 20-25 minutes till a skewer comes clean.
In case, if you dont have induction and wish to use a regular stove. Dont cook it on the direct flame. Put a saucepan on a bigger pan and cook it on the lowest flame.
For the glaze- Melt the chocolate and combine oil in it. Your glaze is ready.
Wait for the cake to come at the room temperature and then decorate it with the chocolate glaze and a pecan nut
If you liked this recipe and make it at home, don't forget to share pictures with me on 
Instagram
using #bakewithshivesh