This Gluten-free chocolate tart with lemon curd filling is the BOMB! Honestly, gluten-free desserts do not get better than this delicious gluten-free chocolate tart, which is filled by the most delectable lemon curd. Trust me when I say this, it will keep you asking for more and more.
Why I love this gluten-free chocolate tart is because it is very easy to gather together. Once you have your ingredients assembled, there is absolutely nothing that you would need to fret about. Plus, I hope you guys are soaking in this amazing monsoon weather in Delhi. In this beautiful weather, I can only imagine how wonderful it would be to dive into this lemon curd filled gluten-free chocolate tart. Every single bite of this tart makes you taste a little bit of cloud 9, a little bit of heaven.
If you do make this recipe, do not forget to tag me on Instagram! 
Ingredients of this Gluten-free chocolate tart
Now, the first thing you will notice in the list of ingredients for this chocolate tart is how varied and different all of them are. You guys know that I am always frank with you and so, I do understand that the ingredients have gotten a wee bit what most would call 'exotic'. But, if you are living a healthy, gluten-free life, I am so very sure that you will have these ingredients lying on your shelf itself. However, in general, one would be able to get these ingredients for this amazing gluten-free chocolate tart in your high-end grocery stores or even on the wide variety of online stores available in today's world.
Tips for baking this gluten-free tart
Remember to combine your tart ingredients properly so that your baked tart doesn't break in the oven.
Combines your oil and sugar well until the mixture looks pale and uniform.
Take caution while making the lemon curd as it is a fragile recipe. Reading the ingredients and the recipe well before proceeding to make it will really help!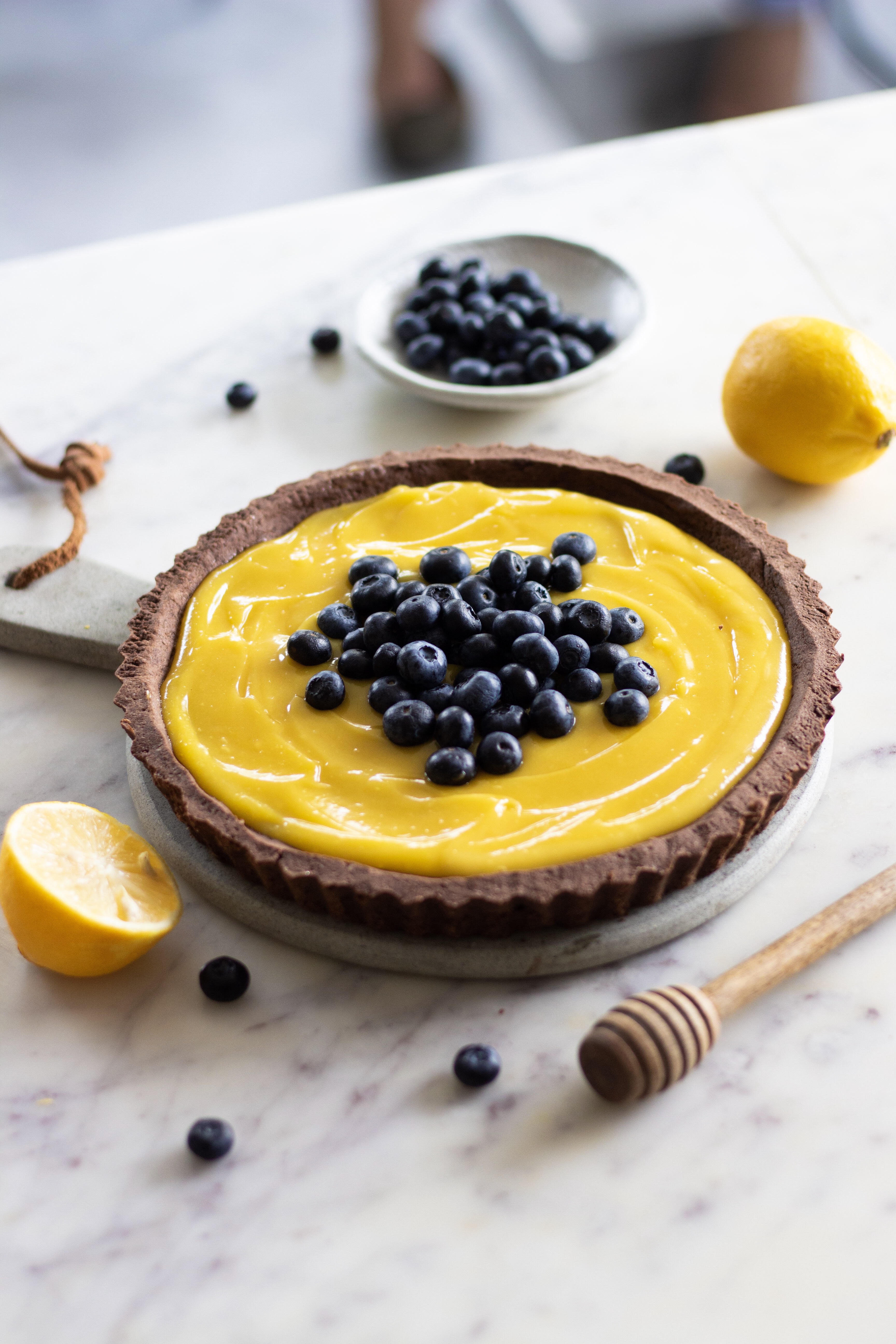 Gluten-free chocolate tart recipe
Gluten-Free Chocolate Tart with Lemon Curd Filling
Ingredients
Tart Shell-
½ cup coconut oil
½ cup coconut sugar
1 cup gluten free flour
¼ cup cocoa powder
1 egg yolk
Lemon curd
2 eggs
¼ cups sugar
4 tbsp fresh lemon juice
2 tbsp butter
½ tbsp lemon essence
2-3 drops marigold yellow colour
½ tsp vanilla essence
Instructions
Pre-heat the oven to 180C
In a large bowl, beat coconut oil with sugar.
Add gluten free flour and cocoa powder. Mix well.
Beat in the egg yolk and mix until the dough comes together. Knead with your hands, if needed.
Press the dough into one 9" tart pan.
Bake at 180C for 15-20 minutes
To make the filling, whisk together eggs, sugar and lemon juice in a pan over medium heat.
Stir continuously to prevent curdling
Cook the mixture until it becomes thick and covers the back of your spoon. This will take approximately 10 minutes.
Remove from heat and while the mixture is still hot, add butter and mix until it melts and is well incorporated
Add the lemon zest, vanilla essence , lemon essence and the gel colour and mix well.
Cover the mixture and let it cool in the fridge.
Once cooled add the mixture of the tart and decorate with blueberries
More gluten-free recipes from the blog