There are days when all you need is a huge gooey cookie all for yourself, with a scoop (or two..or more) of vanilla ice-cream. I have been getting requests to do pizookies since forever now and I thought it is high time now and that is why I am posting this heavenly recipe of the chocolate chip pizookie!
When I tried it for the first time, I realised what the hype is all about. After that I just couldn't stop. I have always loved cookies more than any other dessert but this pizookie takes it to a different level altogether. A few simple ingredients and less than 30 minutes in the kitchen is all you need to make this most amazing dessert. Let's get started!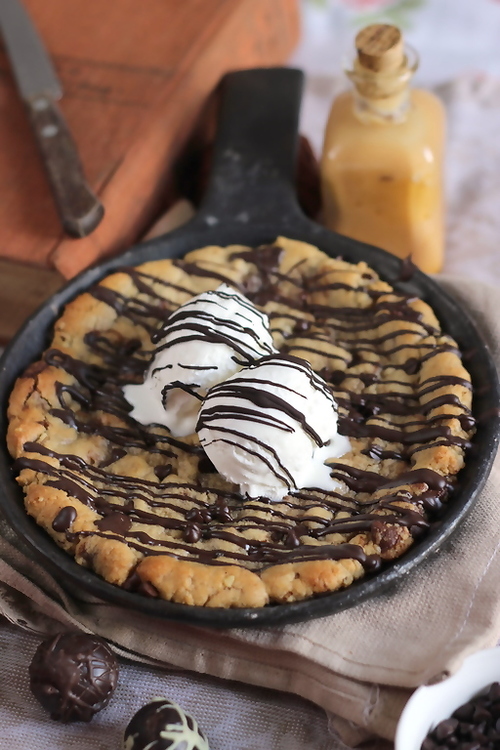 CHOCOLATE CHIP PIZOOKIE
Ingredients
½ cup butter, at room temperature
½ cup lighly packed brown sugar
½ cup granulated white sugar
1 egg, at room temperature
1 tsp vanilla extract
1 + ¼  cup all-purpose flour
1 Tbsp cornstarch
½ tsp baking soda
a pinch of salt
1 cup chocolate chips
Instructions
Pre-heat your oven to 180C
Using an electric mixer, beat butter until it is fluffy
Add in both brown and white sugar and cream them with the butter.
Beat in the egg. Add vanilla.
In a separate bowl, sift together flour, baking soda, corn starch and salt
Add the dry ingredients to the butter mixture and mix until blended.
Add chocolate chips. Using a spatula or a whisk, carefully mix them into the batter
Spread the dough on a skillet. Place the skillet on the baking tray and bake for 15 minutes or until the pizookie becomes golden brown.
Serve with ice-cream and chocolate sauce.