Panna Cotta is a rich and creamy, yet light dessert, especially this Rose Panna Cotta which is perfect for all sorts of festive occasions because of its rich rose taste and lingering kewra flavor. 
Rose Panna Cotta comes off as this fancy dessert that only bakeries and fine-dine restaurants serve but it's actually the other way around! In actual fact, Rose Panna Cotta is the work of literally minutes. This panna cotta recipe is easy and delicious and it can be made in only 15 minutes. Amaze your guests this Rakhi with this stunning dessert!
If you make this amazing rose panna cotta, don't forget to tag me on Instagram and use the hashtag- #bakewithshivesh
Tips for making the perfect Rose Panna Cotta
When you add agar-agar to boiling water, whisk it vigorously and make sure it is completely dissolved before turning off the heat.
If your panna cotta is stuck in your ramekin after chilling it, partially dip your ramekin in luke-warm water and tap it gently from the behind with your hand or the back of a spoon.
To check the texture of the panna cotta and in order to ensure that it is properly done, rub the mixture between your fingers and ensure that there is nothing gritty in the mixture.
Recipe for the easiest Raspberry Compote
Ingredients:
2 cups frozen or fresh raspberries
1.5 tbsp lemon juice
2 tbsp sugar
2 tbsp water
Procedure:
Add the raspberries, sugar, lemon juice and water to a saucepan. Stir the mixture well and bring it to a boil.

Allow it to boil for about 5 minutes, stirring often to stop it from scorching.

Reduce the heat to low and let it simmer and bubble for 10 minutes. It will thicken further as it cools.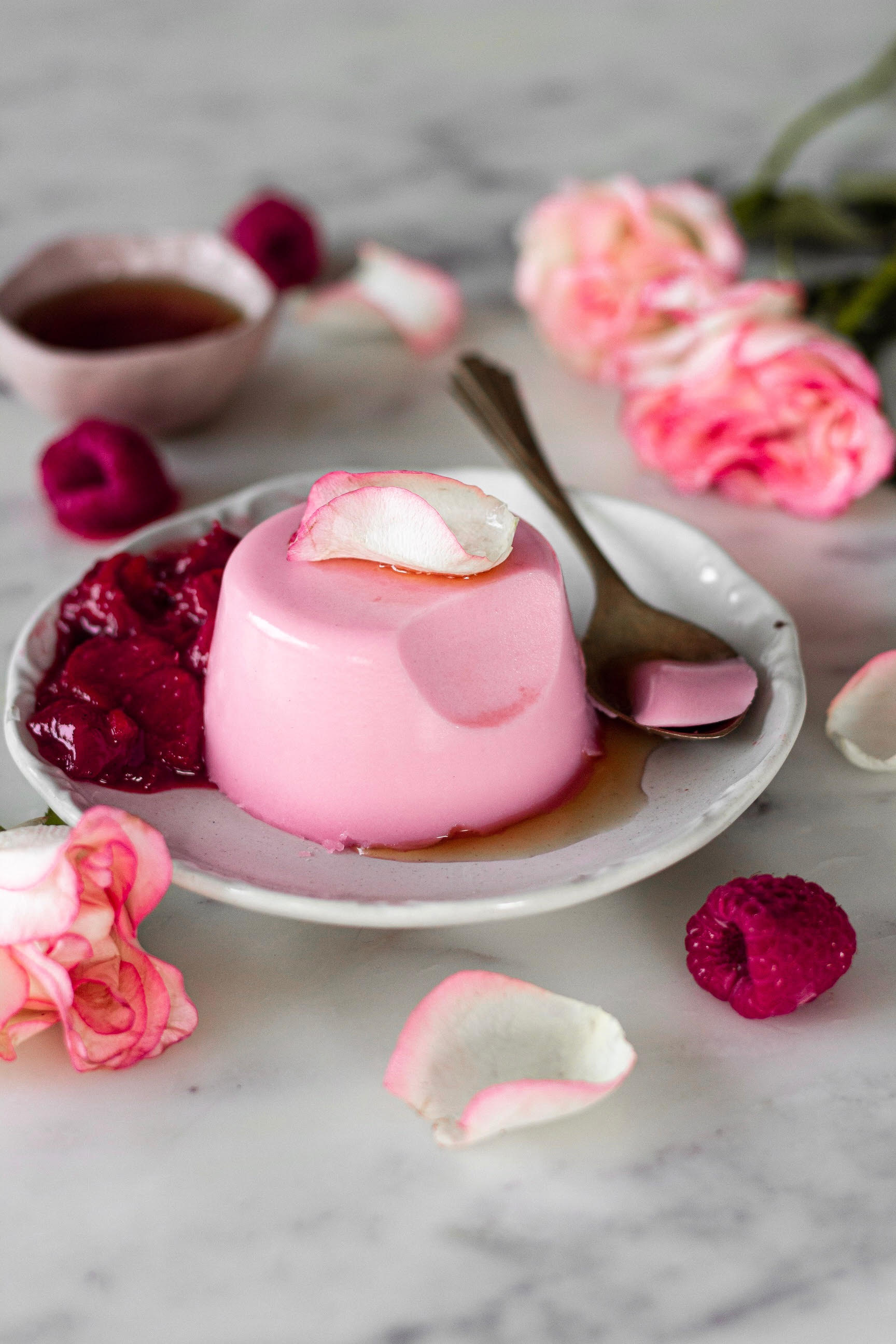 Rose Panna Cotta Recipe
Rose Panna Cotta with Raspberry Compote
Ingredients
1 cup whole milk
2 tbsp agar-agar powder
1 cup double cream
1 tsp kewra extract
2 tbsp granulated sugar
2 drops of pink gel color
Instructions
In a saucepan set over medium heat, mix milk, cream,kewra extract, and sugar and bring it to a simmer.
Add agr agar and mix vigorously. Bring this mixture to a simmer.
Take the pan off heat, add the pink gel color and pour into ramekins or any other lightly oiled glass/ ceramic ware and refrigerate overnight.
De-mould from the ramekins after the panna cotta is well set and top with cooled raspberry compote.
More Panna Cotta recipes from the Blog