CHOCOLATE PIES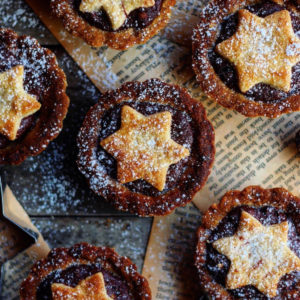 ¾ cup whole wheat flour
½ cup traditional oats
3 tablespoons castor sugar
⅓ cup cold butter, cubed
1 tablespoon cold water
1 cup finely chopped dark chocolate
¼ cup crushed walnuts
1 tablespoon corn flour
Pre-heat the oven to 180 C.
In a food processor, combine flour, oats, sugar and cold butter. Pulse until the mixture resembles a course meal.
Add water and mix until the dough begins to come together.
Transfer the dough onto a plastic wrap and refrigerate for 30 minutes.
Roll out the chilled dough on a lightly floured surface.
Line the Kitchen Aid 6-Cavity Pie Pan with removable bottoms with the dough. Bake at 180 C for 5 minutes.
Melt the chocolate. Add crushed walnuts and corn flour. Add to the semi- baked pie shells.
Using star cookie cutters, cut out stars from the dough and place it on the pies.
Bake at 180C for 15 minutes.