Lemon and Blueberry Cake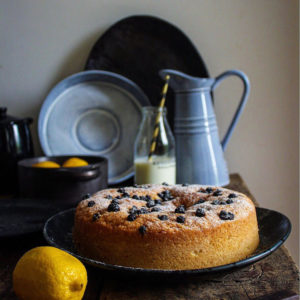 2 cups all purpose flour (maida)
4 teaspoons baking powder
1 tablespoon lemon zest
1 + ½ cup castor sugar
1 cup of vegetable oil
4 eggs
1 tbsp fresh lemon juice
¼ cup milk
¼ cup Delmonte dried blueberries
Lightly brush your 9-inch cake pan with oil/ butter and dust with all-purpose flour. Line with parchment paper. Pre-heat your over to 180C.
In a medium bowl, combine all-purpose flour, lemon zest and baking powder. Whisk until well combined.
In a large bowl, beat sugar and oil until the mixture becomes light and pale, for about 5-7 minutes. Add lemon juice.
Add eggs, one by one, mixing well after each edition.
Now add the dry ingredients to the wet ingredients in three batches, alternating with milk. Do not over mix.
Using a spatula fold the dried blueberries into the batter. Reserve some for the top.
Pour the batter into the prepared cake pan.
Bake at 180C until a toothpick inserted into the centre of the cake comes out clean. This will take about 30-40 minutes.