Chocolate Peanut Butter Cookie Sandwiches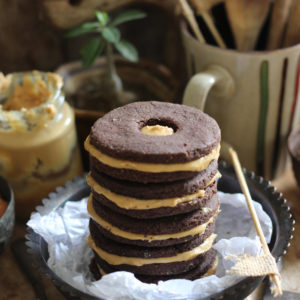 2 cups whole-wheat flour
½ cup cocoa powder
1 cup unsalted butter, at room temperature
1 cup organic sugar
1 small jar of peanut butter
In a medium bowl, whisk together the flour and cocoa powder.
In a separate bowl, cream the butter and organic sugar on medium-high until fluffy.
Reduce speed to low and gradually fold in the flour mixture until just combined and a dough forms.
On a piece of parchment paper, roll the dough out. With a 2-inch cookie cutter, cut the dough into circles.
Form pairs of the dough circles, and using the bottom part of a piping bag, make smaller circles on one cookie of each pair. This step in optional.
Refrigerate on the baking sheets for at least 1 hour.
Heat oven to 200C. Bake the cookies for 10-15 minutes. Cool slightly on baking sheets, then transfer to wire racks to cool completely.
After the cookies have cooled completely, generously spread peanut butter on them and make sandwiches.
Recipe by
Bake with Shivesh
at https://bakewithshivesh.com/cookiesandwiches/