BLACK TEA CAKE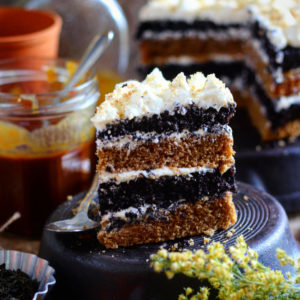 1 cup milk
4 tbsp organic Assam tea
100 grams butter
1 cup organic sugar
2 large eggs
1 cup all purpose flour (maida)
¾ cups organic whole wheat flour
1  teaspoons baking powder
½ teaspoon baking soda
Preheat oven to 180C. Grease two 4 inch round cake pans or one 9 inch pan.
On medium-high heat, bring the milk to a boil. Cut open the tea bags and add the tea directly into the milk. Allow to cool.
In a large mixing bowl, cream together the butter and sugar until light and fluffy.
Add the eggs one at a time, beating well after each addition.
In a separate bowl, combine  both flours, baking powder and baking soda
Add dry ingredients to wet ingredients in two instalments alternating with the tea brewed milk. Do not over mix.
Transfer batter to prepared pan and bake for 30-40 minutes or until a toothpick inserted into the centre comes out clean. cool completely.