EASIEST CINNAMON ROLLS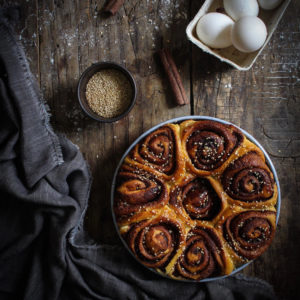 ½ cup warm milk
1 tbsp dry active yeast
4 tbsp granulated sugar
3 tablespoons butter, softened
1 egg
a pinch of salt
3 + ¼ cups all-purpose flour
¼ cup melted butter
1 cup brown sugar + 5 tablespoons cinnamon powder
Combine milk, yeast, butter, egg, salt, and sugar in a bowl.
Add flour and knead until the dough begins to come together.
Transfer to an oiled bowl. Cover with a damp towel and let it rest for 1 hour in a warm place. The dough will double in volume.
Once the dough has doubled, roll it out in a rectangle of ¼th-inch thickness on a lightly floured surface
Brush the dough with the melted butter.
Spread an even layer of brown sugar and cinnamon on it.
Roll the dough into a cylinder. Cut ¾-1 inch rolls from the dough.
Place the rolls in the baking dish. Let them rest in the baking dish for 45 minutes.
Pre-heat the oven to 180C. Bake the rolls for 15-20 minutes until they're golden brown. Eat warm.