Eggless chocolate cookie cups with cold coffee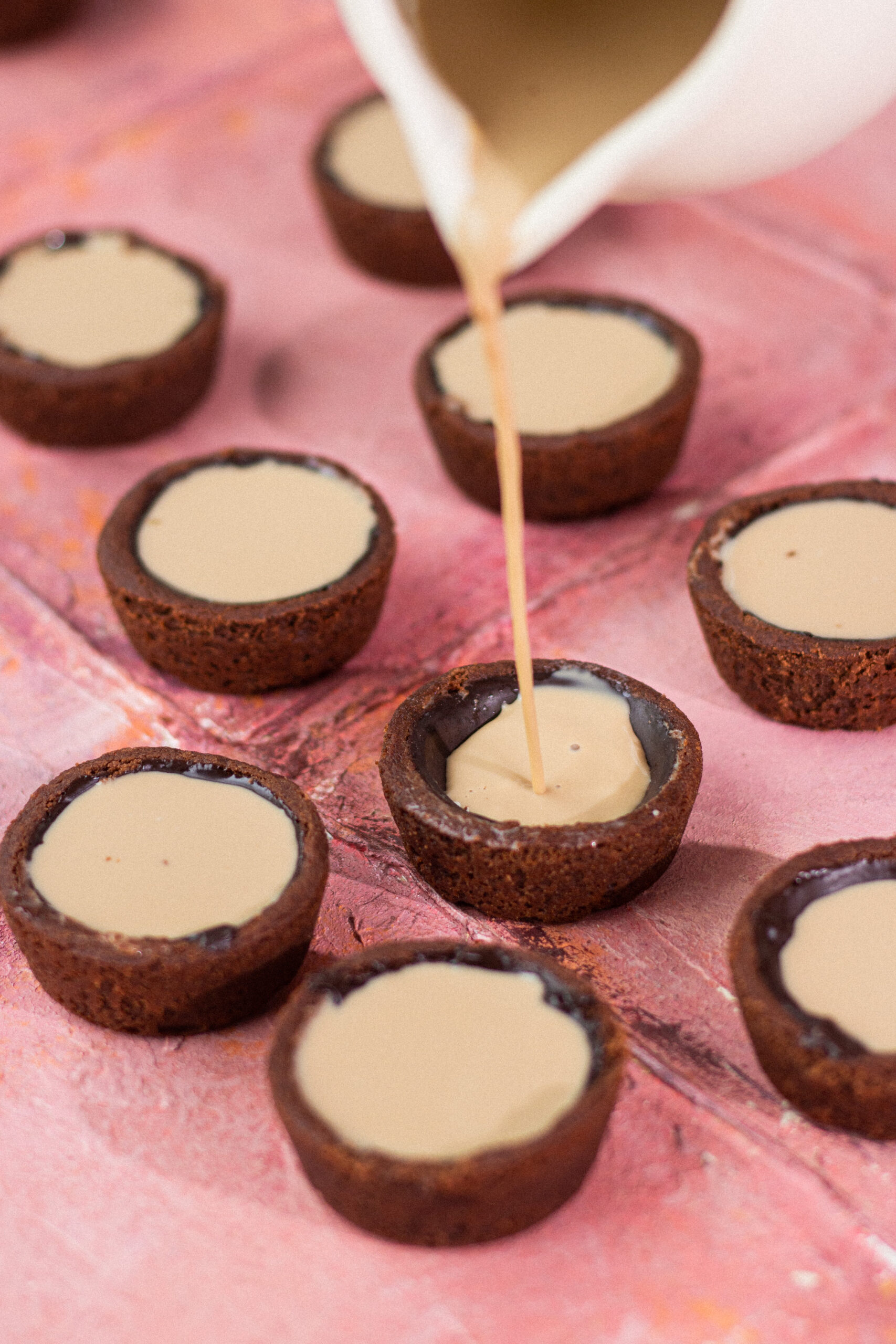 ½ cup (113g) softened butter
¼ cup (30g) icing sugar
1 teaspoon (5g) vanilla extract
¾ cup (90g) all-purpose flour
¼ cup (25g) cocoa powder
Melted dark chocolate to coat the insides of cookie cups
Cold coffee to fill
Pre-heat the oven to 180*C.
Cream the butter and icing sugar until fluffy.
Stir in vanilla extract.
Add flour and cocoa powder and mix until the dough comes together.
This dough made 12 cups for me; it can make more or less for you; according to the size of your muffin mould. I am using a mini muffin tray here and weighed the dough into 12, 20g balls. You can use an ice-cream scooper or eye-ball it.
Place one ball of cookie dough in the bottom of each mini muffin baking cup. Using your fingers gently press the dough up and along the sides of the pan to make a cup shape. You can even use the back of a wooden spoon, if you like.
Bake for 10-12 minute. Immediately after removing the cookie cups from the oven with the help of a teaspoon or the back of a wooden spoon, gently reform the "cup shape" by widening the center and flattening the bottom of the cup.
Let it cool completely. Once cooled, use the end of the knife to gently pop out the cookie cups.
Melt some dark chocolate and coat the insides of each cup with the help of the back of a teaspoon or you can use your finger. Try to evenly coat the inside of your cookie cup.
Add some cold coffee and serve. Enjoy and cheers!
Recipe by
Bake with Shivesh
at https://bakewithshivesh.com/eggless-chocolate-cookie-cups-with-cold-coffee/