CHERRY WAFFLES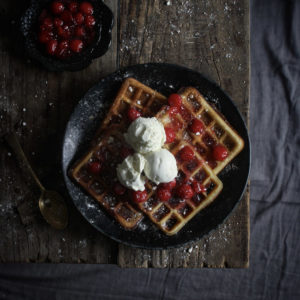 •    2 cups maida (all purpose flour)
•    2 tsp baking powder
•    Zest of one orange
•    4 tbsp castor sugar
•    2 eggs
•    ½ cup vegetable oil
•    1 +1/2 cup milk
•    1 tsp vanilla essence
•    8-10 Delmonte cherries, drained and chopped
•    2 tbsp sugar
8-10 Delmonte cherries, to top
½ cup sugar
•    Heat the waffle iron
•    Combine flour, baking powder, orange zest and sugar.
•    In a large bowl, beat eggs. Add milk, oil and vanilla.
•    Add the dry ingredients to the wet ingredients and mix only until well combined. Fold in the chopped Delmonte cherries.
•    Pour mixture in hot waffle iron and let cook until both sides are golden brown.
•    Meanwhile, in a sauce pan, cook the cherries and sugar until it starts to become juicy.
•    Pour the fruit on the cooked waffles.