Eggless Malai Cake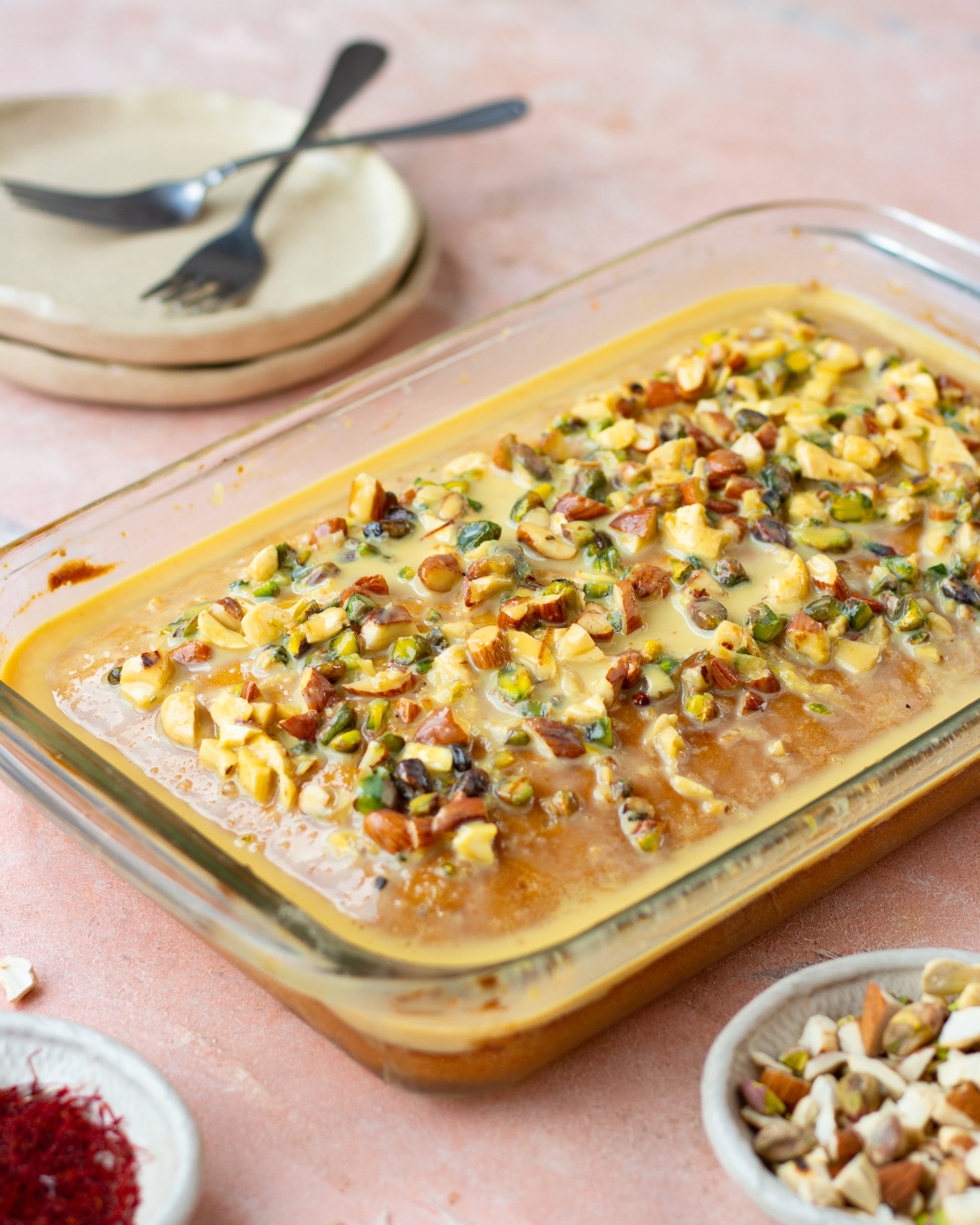 2 + ¼ cup (270gms) all-purpose flour
1 + ½ teaspoon (6gms) baking powder
1 cup + ½ (428gms) yogurt
¾ teaspoon (2gms) baking soda
1 cup + 2 tbsp (224gms) castor sugar
¾ cup (180ml) vegetable oil
1 teaspoon (5ml) vanilla
⅛ tsp cardamom
7-8 strands saffron
2 cups (480ml) milk
7-8 strands saffron
1 cup (324g) condensed milk
¾ cup (38g) mixed roasted nuts
Pre-heat the oven to 180 degree C and grease a 11x6 inch glass dish with oil.
In a bowl whisk together flour and baking powder and set a side.
In a separate bowl add the yogurt and sprinkle baking soda over it and set it aside to foam up.
Once it becomes foamy, add cardamom powder, saffron and vanilla extract. Combine everything together.
In this yogurt mixture, add castor sugar and oil and mix well.
Sift in the dry ingredients into the wet ingredients.
Gently fold in the dry ingredients and mix until everything is well combined and there are no large flour pockets in the batter. Do not over mix at this stage.
Transfer the batter to the prepared glass dish.
Bake at 180C for 30-35 minutes or only until a skewer inserted in the center comes out clean.
While the cake is baking, make the malai topping by cooking your milk in a saucepan over medium heat till it reduces to half the quantity. It should take 8-10 minutes.
After 5 minutes, add in the saffron and keep cooking the milk.
Once the milk has reduced to half, add condensed milk to this milk mixture and whisk well. Cook this for another 2-3 minutes.
Add in the chopped nuts and combine everything well. Take it off the heat.
After the cake is baked, prick it with a fork while it's still warm.
Pour the malai topping on the cake and tilt the pan so that the milk covers the entire cake.
Let it set in the fridge for one hour.
After one hour, demould the cake from the pan and serve!