Quickest Red Velvet Cake - eggless and no oven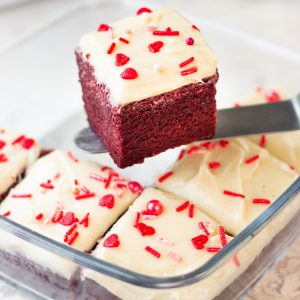 1 + ½ cup (180g) all purpose flour/ maida, sifted
2 tablespoons (15g) cocoa powder
1 teaspoon (6g) baking soda
1 cup (200g) castor sugar
½ cup (120mL) vegetable oil
¼ cup (72g) yogurt
2 teaspoons (10mL) vanilla extract (optional)
2-3 drops red gel food color
1 + ¼ cup (300ml) buttermilk
1 cup (225gm) cream cheese, softened
½ cup (100gm) butter, softened
1 tsp vanilla
1 + ½ cup (195gm) icing sugar, sifted
Grease a microwave dish and line it with parchment paper.
In a blender, add sugar, oil, vanilla, yogurt, buttermilk, and red gel color. Also add in the sifted maida, cocoa powder and baking soda.
Blend everything till you get a smooth batter.
Pour the batter into the prepared dish and cook it in the microwave for 7 minutes at normal cooking mode.
Once cooked, take it out of the microwave and let it cool down.
To make the cream cheese frosting, in a bowl beat the butter and cream cheese together until the mixture is light and fluffy.
While the mixture is running gradually add the icing sugar and the vanilla extract and mix well until well combined. Don't over-mix.
Finish the cake by spreading a generous layer of cream cheese frosting on top and garnishing with sprinkles.
Slice and enjoy!
Recipe by
Bake with Shivesh
at https://bakewithshivesh.com/quickest-red-velvet-cake-eggless-and-no-oven/