eggless ferrero rocher cake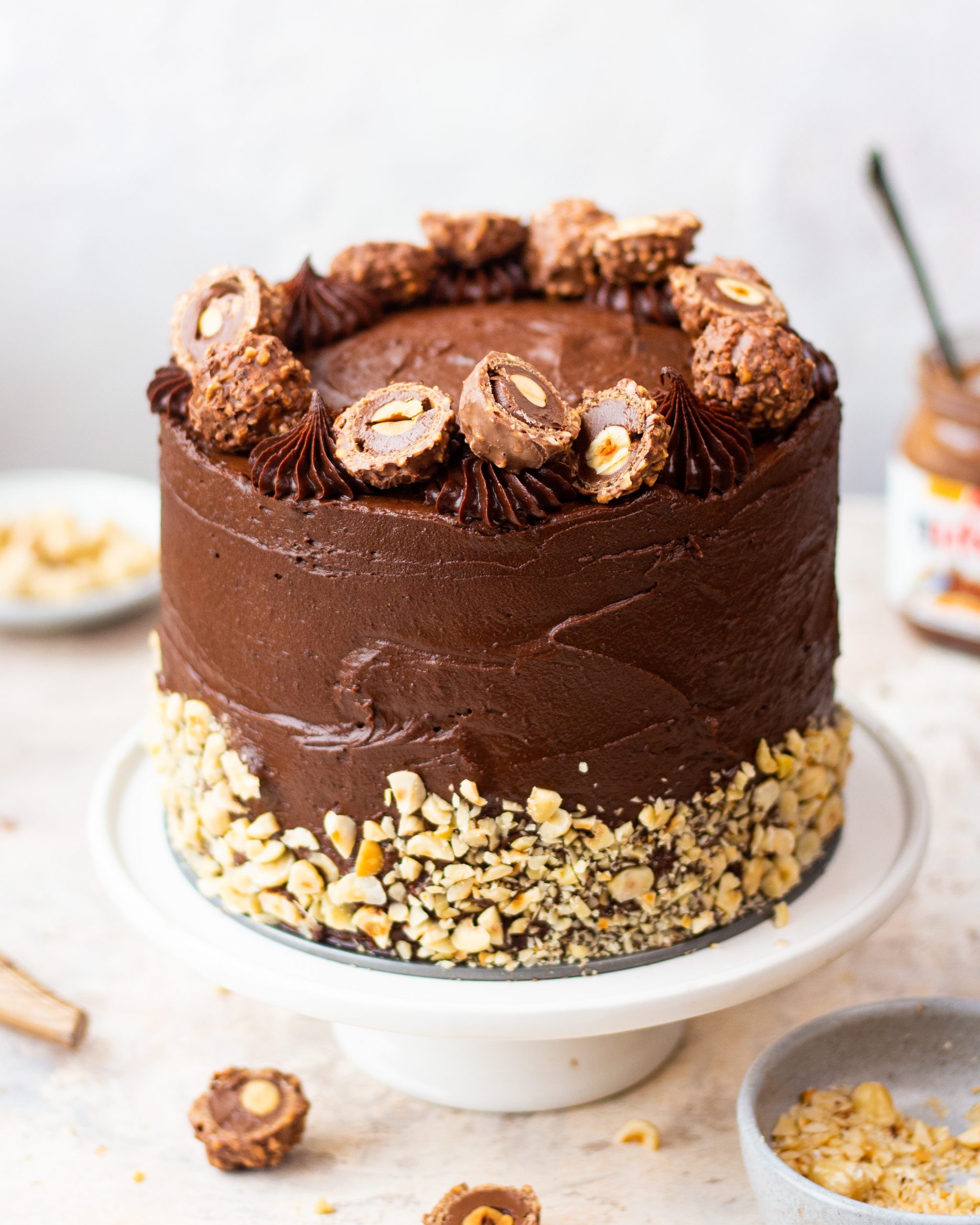 1 cup (285gms) yogurt
½ cup (100gms) caster sugar
2 tbsp (30ml) milk
3 tbsp (45ml) vegetable oil
2 tbsp (40gms) Nutella
1 + ½ cup (180gms) maida
1 tsp (3gms) baking soda
1 + ½ tsp (6gms) baking powder
Pinch of salt
¼ cup (35gms) chopped roasted hazelnuts
1 cup + ½ cup (260gms) milk chocolate
¾ cup (185gms) whipping cream
In a bowl add caster sugar, and oil. Use a hand whisk to whisk till the mixture becomes light and pale. Add in yogurt and mix that in as well.
To the same bowl add in two tablespoons of nutella. If you want, you can add more of less nutella, depending on your taste. Use the hand whisk to combine and reach a smooth consistency.
Place a sieve over the bowl add in your dry ingredients. This includes maida, baking powder, and baking soda. Also add in a pinch of salt and use a spatula to combine the wet and dry ingredients till there are no large flour pockets.
Lastly, lightly roast some hazelnuts on a pan over medium heat and chop them roughly. Add ¼ cup of chopped hazelnuts to the cake batter and fold those in as well.
Transfer batter into prepared cake pans and bake at 180C for 20-25 minutes.
For the ganache, pour hot cream over chopped chocolate. Let it sit for 20 seconds and then use a spatula to combine the chocolate and cream till you reach a lump free and smooth consistency.
Put the ganache in the freezer for at least one hour. Once chilled, Use an electric whisk to whip at high speed till it reaches semi soft peaks.
To assemble the cake, place one layer on your serving base and pipe the whipped chocolate ganache on the edge of the cake, making a well in the center. Take an ice cream scoop and add a scoop of the ganache in the middle.
Use your offset spatula to spread the scooped ganache across the cake layer evenly.
Once your ganache is evenly spread, add as many or as less ferrero rocher chunks. Use your hands to push the chunks down a little, making sure they are in contact with the ganache layer.
Place the second cake layer on top and cover the entire cake with the ganache.
Garnish the cake as you wish and refrigerate for 1 hour before serving. Enjoy!
Recipe by
Bake with Shivesh
at https://bakewithshivesh.com/eggless-ferrero-rocher-cake/