Dairy free chocolate pudding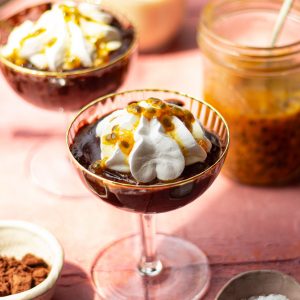 6tbsp (75gms) sugar
1tsp (4gms) coffee powder
2tbsp (15gms) cocoa powder
4tbsp (30gms) corn flour
Pinch of salt
2 + ½ cup (600ml) oat milk
1 cup (170gms) melted dark chocolate
In a heavy bottom saucepan add in sugar, coffee powder, cocoa powder, corn flour and a pinch of salt. Use a whisk to combine the dry ingredients.
In the same saucepan add in dairy free milk and melted chocolate.
Put the pan on low medium heat and constantly whisk the pudding mixture to make sure it does not stick to the bottom.
After 10 minutes or so the mixture will start to get thick. Keep cooking till the mixtures comes to a boil. Once you see bubbles pop, turn off the heat and take the saucepan off the stove.
Pour the warm pudding into servings dishes and let it cool down in the fridge.
Add some non dairy whipped cream and your favorite garnishes on top.
Serve and enjoy!
Recipe by
Bake with Shivesh
at https://bakewithshivesh.com/dairy-free-chocolate-pudding/