CHERRY PUFF PASTRY TART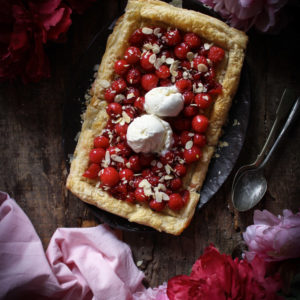 1 sheet frozen puff pastry, thawed
1 can Delmonte cherries
¼ cup granulated sugar
1 tsp fresh lemon juice
Pre-heat the oven to 180C.
Roll out the puff pastry on a lightly floured surface. Using the knife, make 1 inch borders on all 4 sides.
Transfer to a baking tray and bake at 180C for 15-20 minutes until its golden-brown.
On a saucepan set over medium heat, Bring drained Delmonte cherries and sugar to a boil.
Cook until you get a thick filing consistency.
Once the puff pastry is golden brown, spread the cherry filling on the top. Serve with ice-cream.