Eggless Blueberry Cheesecake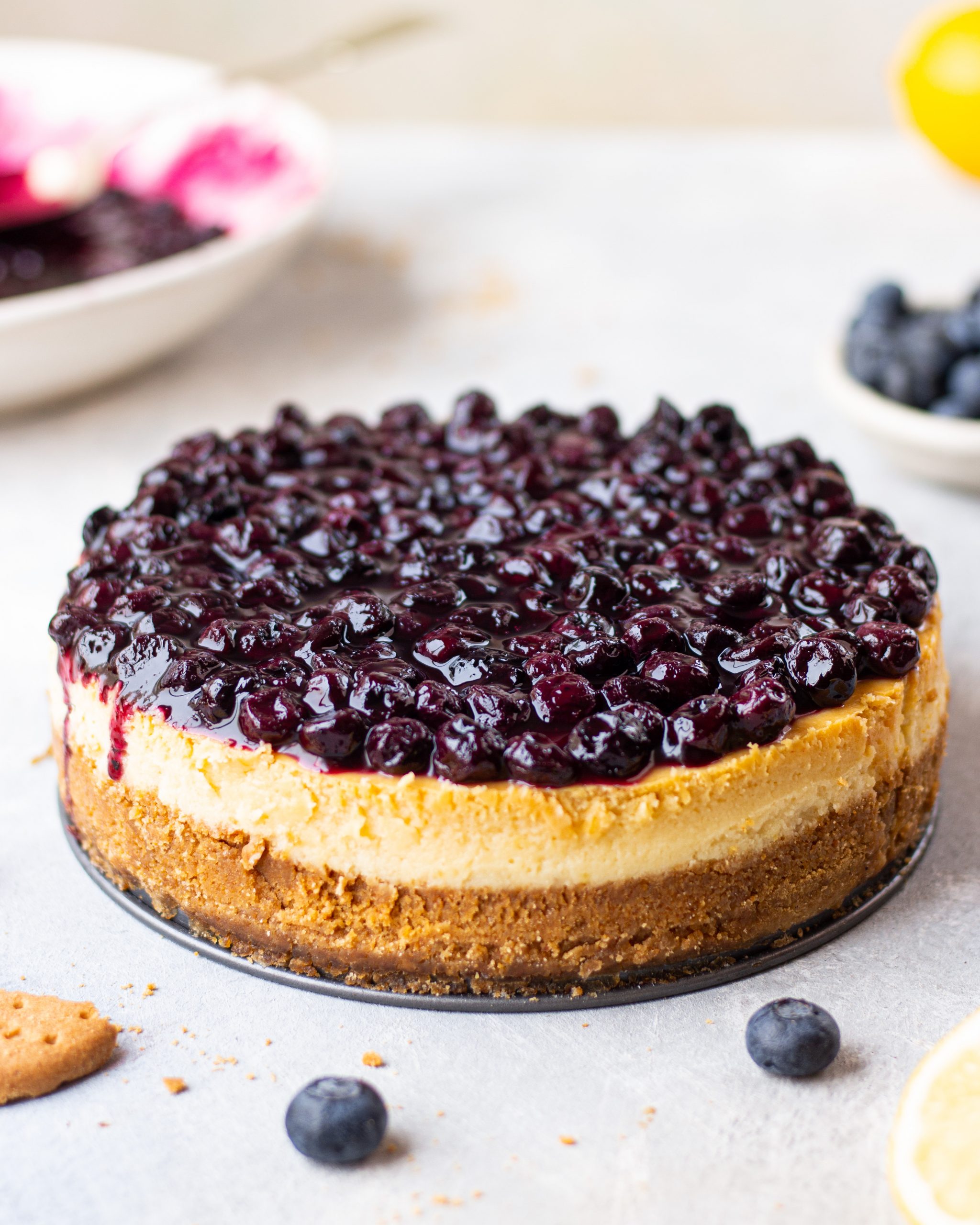 2 + ½ cups (250 grams) crushed biscuits
½ cup (113 grams) melted butter (salted)
1+ ½ cup (225 grams) cream cheese, softened
½ cup (120 grams) heavy cream
2 tablespoons (15 grams) corn flour
2 teaspoons (15 grams) vanilla
½ teaspoon (2 grams) lemon zest
1 cup (306 grams) condensed milk
2 cups (380 grams) frozen blueberries
¼ cup (55 grams) sugar
1 tablespoon (14 grams) lemon juice
2 teaspoons (5 grams) corn flour
3 tablespoons (44 grams) water
Instructions:
In a food process add the biscuits and process them until fully crushed. Transfer to a large bowl. Add melted butter and combine using a spatula.
Transfer the biscuit crumbs into a 6' inch springform pan and press down evenly. Set it in the fridge for 10-15 minutes.
In a large bowl add cream cheese, use an electric whisk and smoothen the cream cheese until light and fluffy.
In a separate bowl add heavy cream and cornflour and mix until fully combined. Transfer this mix into the cream cheese bowl and add vanilla, lemon zest and condensed milk.
Mix the batter using an electric whisk until completely smooth transfer this on top of the biscuit base. Seal the bottom of the springform pan with two layers of aluminum foil so nothing leaks out.
Set the springform pan in a bigger baking dish with hot water creating a water bath.
Put the cheesecake to bake in a preheated oven @160 celsius for about 1 hour.
Once baked fully run a knife around the edges while the cheesecake is still warm. Transfer the cheesecake into the fridge to cool for about 4-6 hours.
For the blueberry compote- tanfer the blueberries to a heavy bottomed saucepan with sugar and lemon juice. Cook until the sugar melts and then add in the cornflour slurry.
Cook the filling until it comes to a slight boil and thickens up. Set aside and allow it to cool completely before transferring it over our cheesecake and spreading evenly.
Slice and enjoy!
Recipe by
Bake with Shivesh
at https://bakewithshivesh.com/eggless-blueberry-cheesecake/