Eggless Cinnamon Rolls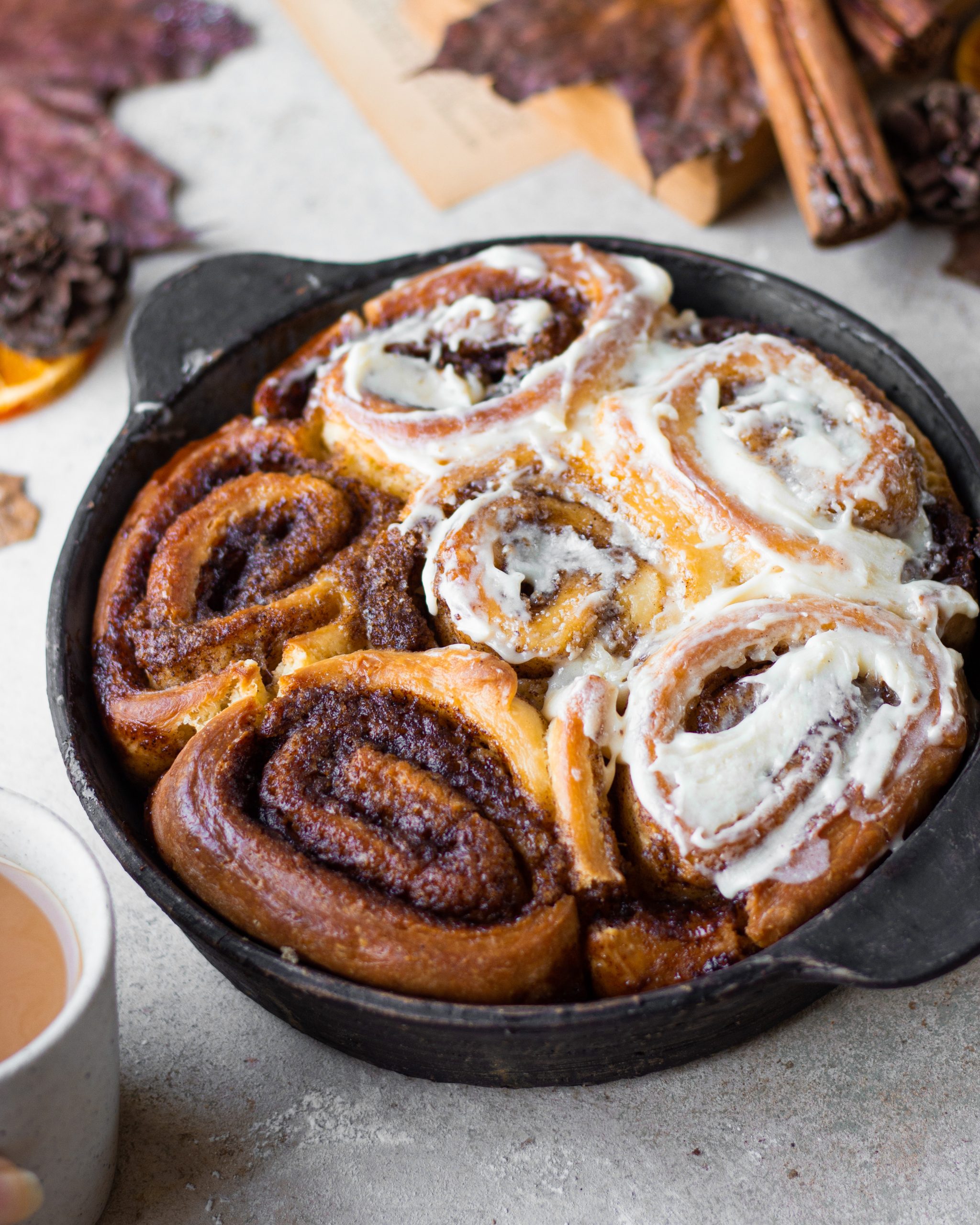 2 cups milk (480g)
½ cup melted butter (113g)
¼ cup sugar (55g)
1 + ½ tsp yeast (4.5 g)
4+ ½ cups flour (540g)
1 tsp salt (5g)
⅓ cup softened butter (76g)
1 cup brown sugar (200g)
2.5 tsp cinnamon powder (7g)
In a big bowl add in warm milk, active dry yeast and sugar. Give it a slight mix and cover the bowl. Let it sit undisturbed for 5-7 minutes and let the yeast bloom.
Once the yeast has bloomed, add in all purpose flour, salt and melted butter. Using a wooden spoon, mix everything together and bring the dough together.
After bringing the dough together, lightly brush the top with some vegetable oil.
Cover the bowl with a cloth and set it aside in a warm corner. Let the dough rise for 1-2 hours or until doubled in size.
Meanwhile to make the filling simply combine butter, brown sugar, and cinnamon powder. Set it aside.
When your dough has doubled in size, sprinkle all purpose flour on your kitchen counter and transfer the dough on it. Roll the dough in a rectangular shape of around half an inch thick.
Evenly spread the cinnamon filling all over the rolled out dough, making sure all parts are covered with the filling.
To roll the dough into a log, start from the longer edge and keep pushing the seam side inwards to ensure a tight log. Continue till you reach the other end.
Using dental floss, run it along the base of the log and cut individual rolls. You might have to cut off the two ends first to get cleaner rolls for your final baking dish.
Place each roll into your baking dish. Make sure to not overcrowd the dish and place each roll next to the other, without leaving space.
Cover the baking dish and proof the rolls again for another 30 minutes.
Once proofed, brush milk on top of the rolls and bake these at 175 degree C for about 35 minutes.
Eat warm and enjoy!