Christmas Yule Log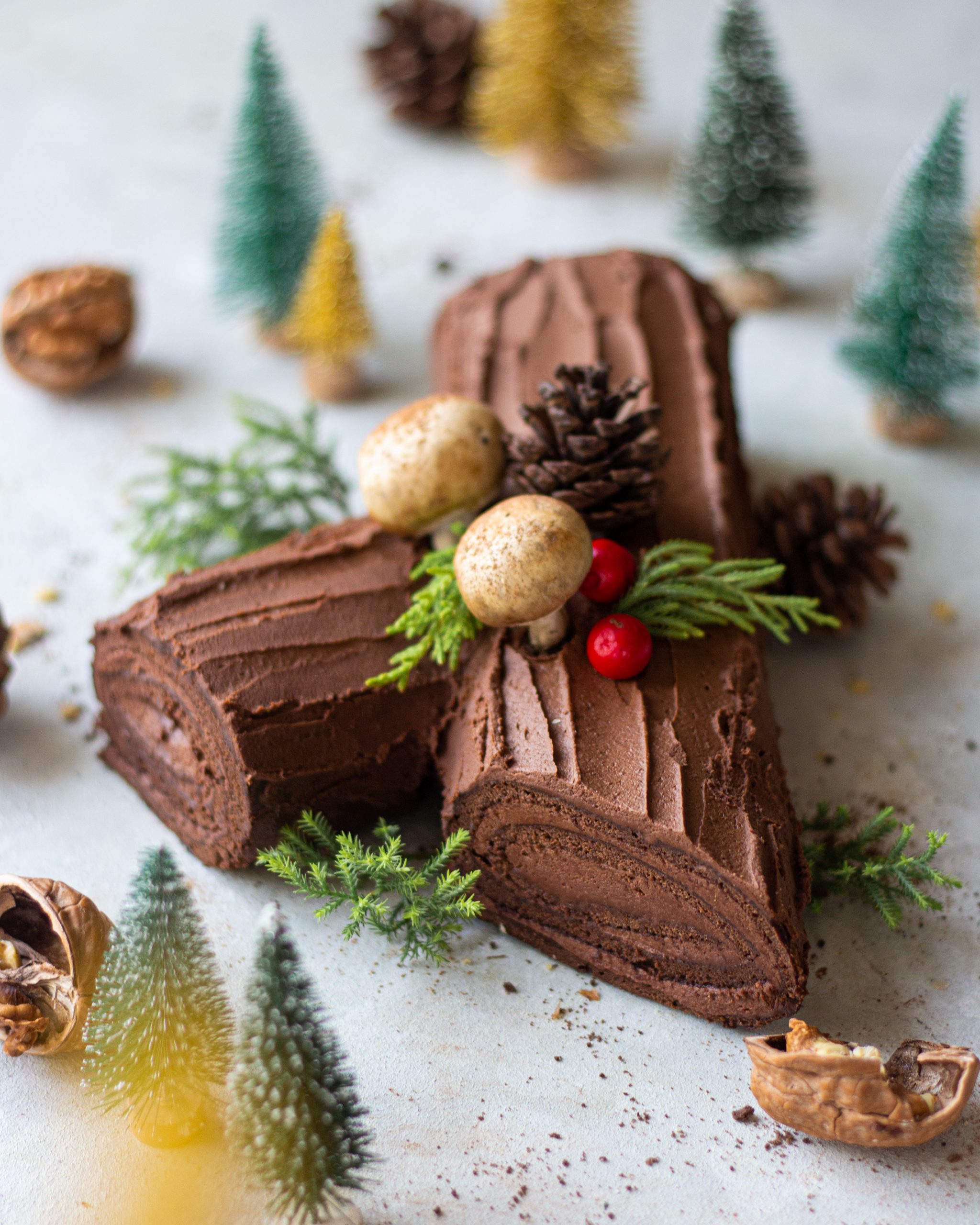 3 tablespoon flour
2 tablespoon cocoa
3 tablespoon cornflour
5 eggs
½ cup + 2 tablespoon caster sugar
1 teaspoon vanilla
Icing sugar to dust
1 + ½ cup heavy cream
¾ cup melted chocolate
Preheat the oven to 230 degrees celsius. Butter a 17x12 inch baking pan, line it with parchment paper, and then butter and flour the paper.
To make the cake, sift the flour, cocoa and cornflour into a bowl and set aside.
Separate two eggs, and set aside the egg whites in a clean dry bowl. In another bowl, beat the two egg yolks, the three whole eggs and ½ cup sugar on high speed until pale and fluffy. Add the vanilla extract.
Fold the sifted flour into the egg mixture in two batches. Mix until just combined.
Beat the egg whites until foamy. Add 2 tablespoons of sugar and continue beating until the egg white forms stiff peaks. Gently fold the egg whites into the flour and egg mixture in three batches. Do not overmix or you'll knock out all the air. Transfer the batter into a prepared baking pan and spread evenly.
Bake for about 6-8 minutes or until golden brown. Remove the cake from the oven and immediately sprinkle confectioners' sugar over it. Invert the cake onto a clean dish towel, remove the parchment paper and sprinkle confectioners' sugar. Roll up the sponge with the towel. Place on a wire rack to cool.
To make the filling, add the melted chocolate to heavy cream and mix well. Set aside to thicken slightly.
Unroll the sponge. Spread with the filling and reroll the cake. Cover and chill in the refrigerator for a few hours. Just before serving, dust with confectioners' sugar, more ganache and some meringue mushrooms.