Cinnamon Sugar Churros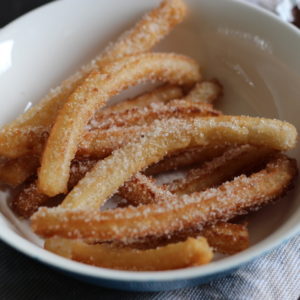 2 cups water
6 tbsp granulated white sugar
4 tbsp vegetable oil
a pinch of salt
2 cups all-purpose flour
Oil, for frying
1 cup castor sugar + 2 tbsp cinnamon powder
1 cup dark chocolate, finely chopped
¾ cup heavy cream
In a saucepan set over medium heat, combine water, granulated white sugar, vegetable oil, and salt. Bring the mixture to a boil and remove from heat. While the mixture is still hot, mix in the flour and mix well until the dough thickens. Put this thick mixture in a piping bag with a star tip attached.
Heat the oil for deep-frying. Using a piping bag with a star tip, pipe the dough strips into the hot oil. Fry until dough strips become golden brown.
Roll the churros in cinnamon sugar mixture.
To make the chocolate sauce, heat the cream and pour it over the finely chopped chocolate. Let the mixture for 5 minutes and then mix well until everything is well combined.