BLUEBERRY GRANOLA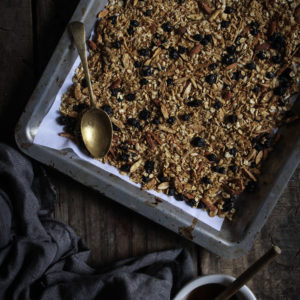 2 cups traditional oats
½ cup sliced almonds
¼ cup watermelon/ pumpkin seeds
1 tbsp vegetable/ coconut oil
1 tbsp maple syrup
1 tbsp vanilla extract
½ cup dried blueberries
Pre-heat the oven to 180C.
In a large bowl, combine oats and almonds and seeds.
In a small bowl combine vanilla extract, oil and maple syrup. Pour over the oats mixture.
Mix well and ensure everything is well combined.
Transfer the mixture to a baking tray lined with parchment paper. Make sure it is spread evenly on the try.
Bake at 180C for 15 minutes.
After 15 minutes, pull out the tray. Give everything a gentle mix and add dry blueberries.
Bake for another 15 minutes.