No bake Chocolate fudge - 3 ingredients only!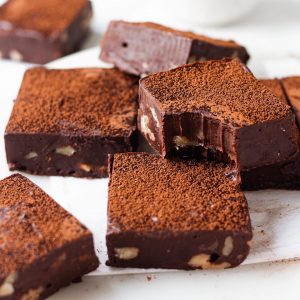 350gm/ 2 cups chopped dark chocolate
400gm condensed milk
2 tbsp salted butter, melted
¼ cup walnuts, copped (optional)
Grease your pan with butter and line it with parchment paper with handles on two sides. Set this aside.
Set a double boiler and melt your chocolate while stirring it occasionally. Once all chunks are melted, take it off the heat.
In the same bowl add in condensed milk and melted butter. Combine everything really well. You will soon have a thick mixture.
If you want some crunch, add in walnuts or any nuts of your choice.
Pour in all the fudge mixture into your prepared pan. Refrigerate this for 3-4 hour or until completely set.
Cut into squares and dust some cocoa powder on top. Enjoy!
Recipe by
Bake with Shivesh
at https://bakewithshivesh.com/no-bake-chocolate-fudge-recipe/