Eggless coffee and walnut cake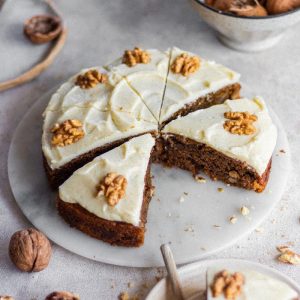 1 + 1⁄2 cups (180g) all purpose flour (maida)
1 teaspoon (4g) baking powder
1 cup (285g) yogurt
1⁄2 teaspoon (3g) baking soda
3⁄4 cup (150g) castor sugar
1⁄2 cup (120mL) vegetable oil
1 teaspoon (5mL) Vanilla Extract
2 tbsp coffee powder + 2 tbsp hot water ¼ cup
(63g) crushed walnuts
1 cup (225gm) cream cheese, softened
1⁄2 cup (100gm) butter, softened
seeds from half vanilla pod
1 + 1⁄2 cup icing sugar, sifted
Preheat the oven @ 180C.
In a clean bowl, add the yogurt and baking soda. Give it a good mix using a spoon and let it sit for 5-10 minutes until it becomes foamy.
In a separate bowl add the sugar and vegetable oil. Using a whisk mix this really well for about 3-4 minutes. Add the vanilla extract and mix it.
Add the yogurt and baking soda mix and combine well.
In a separate bowl add coffee powder and water, mix it and add it to the cake batter.
Now to the batter through a sift add the flour and baking powder. Using a spatula gently fold the dry mix in. Mix until you don't see any large flour pockets.
Add the walnuts and give it a final mix. Transfer to an 8' baking pan lined with parchment paper.
Bake @ 180C for 30-35 minutes until a skewer inserted comes out clean.
To make the frosting, whisk the butter, cream cheese and vanilla together until the mixture is light and fluffy. Add the sugar and use a spatula to mix until the frosting is smooth and fluffy.
Generously top the cake with frosting once the cake has cooled completely.
Recipe by
Bake with Shivesh
at https://bakewithshivesh.com/eggless-coffee-and-walnut-cake/