Mango custard tart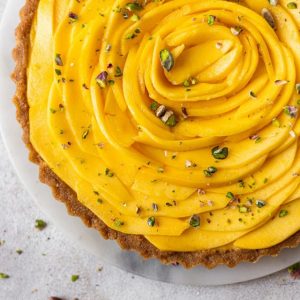 2 cups biscuit crumbs ( about 260gm ParleG biscuits)
1 cup melted butter
½ liter milk
¼ cup milk + 3 tbsp custard powder
4 tbsp powdered sugar
4-5 mangoes, thinly sliced
chopped pistachios
In a bowl add in your crushed biscuits and melted butter. Mix this well so that the butter is coated on each biscuit crumb.
Take your tart mould and spread the biscuit and butter mixture evenly, while pressing upwards on the sides of the tart mould. Make sure to cover all the surface area and edges of the tart pan for a perfect tart shell.
Once your tart mould is evenly covered, keep this in the refrigerator for at least 30 minutes.
In a saucepan add in ½ litre of milk and bring it to a boil. Meanwhile, in another small bowl add in ¼ cup of milk the custard powder. Mix this really well till the custard powder is completely dissolved.
Add the custard powder and milk mixture to the saucepan with the boiling milk. Stir constantly and bring this to a boil. Then add in the powdered sugar as well and combine everything
Once combined, transfer the filling to a bowl and cover it with cling wrap. Make sure the cling wrap is touching the surface of the custard so that no skin is formed on top.
Refrigerate the filling for 40 minutes and let it set.
Once both the tart shell and the filling are ready, assemble the tart.
Pour the filling into the tart shell and spread it evenly.
For the topping, slice some mangoes lengthwise and make sure they are thin slices. Assemble these around the circumference, while going closer to the the centre of the shell. This will make a mango rose. Top it off with some chopped pistachios and your tart is ready to be served!