Chocolate Chunk Muffins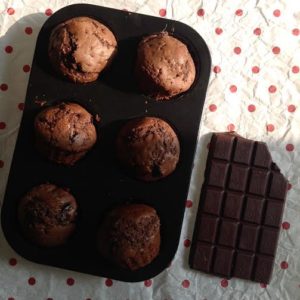 1 cup dark chocolate chunks
2 + ½ cup all purpose flour
½ cup cocoa powder
4 teaspoons baking powder
½ cup white granulated sugar
½ cup packed light brown sugar
½ cup vegetable oil
2 eggs, at room temperature
1 cup milk, at room temperature
Using a serrated knife, coarsely chop dark chocolate to make chunks.
In a bowl, mix together flour, cocoa powder, and baking powder
In the stand mixer fitted with a whisk attachment beat together sugars and oil at high speed.
Add both the eggs and beat well.
Add milk.
Reduce the speed to low and mix in the flour mixture.
Using a spatula, fold in the dark chocolate chunks.
Scoop the batter into the muffin trey.
Bake at 200C for 10 minutes. Reduce the temperature to 150C and bake for another 20 minutes or until a toothpick inserted into the centre comes out clean.