Cinnamon Rolls from Scratch - Tasty and easy!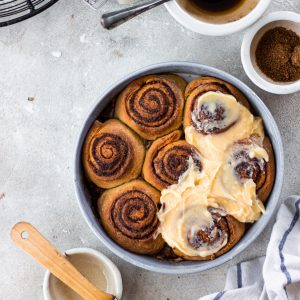 1 cup milk
1⁄2 cup granulated sugar
1+1⁄2 tablespoons dry active yeast
1⁄2 cup butter, melted
3 eggs
4 + 3⁄4 cups all-purpose flour
⅓ cup softened butter
1 cup brown sugar
2.5 tsp cinnamon powder
1 cup (225gm) cream cheese, softened
½ cup (100gm) butter, softened
Seeds from half vanilla pod 1
½ cup icing sugar, sifted
In the bowl of the stand mixer, add the milk (heated to 110F/43C), sugar and yeast. Let this mixture stand undisturbed for 10-5 minutes. When you see little bubbles forming, the yeast is ready to be used.
Attach the bowl to the machine, using the dough hook add the melted butter and start mixing slowly. Next add in the eggs one by one and let the mixer mix them well.
To the wet mixture, add the flour in installments with the mixer running at all times. Mix it until the dough comes together. Rest the dough in a well oiled bowl, covered with a damp tea towel for about 2 hours. I let the dough in the turned off oven.
While the dough rests. Prepare the filling by mixing the butter, sugar and cinnamon using a spatula and mixing until well combined.
After the dough has rested and doubled up in size, divide it in half and roll it on a well dusted surface. Once rolled into a rough rectangle, spread the filling all over it. Roll the dough into a cylinder now starting from the longer edge. Cut it into slices using dental floss or a clean thread. The slices should be about 2-3' thick.
Place it into a 9' pan, keeping a distance of an inch between them. Proof them for 2 hour, covered. Once doubled in size bake it @200C for 20-25 minutes.
For the icing, beat the cream cheese, butter and vanilla using a hand mixer. Add sugar to the mix in pats and beat until light and fluffy.
Apply a generous layer of the icing on top of the warm cinnamon rolls and enjoy!
Recipe by
Bake with Shivesh
at https://bakewithshivesh.com/cinnamon-rolls-from-scratch-tasty-and-easy/