APPLES POACHED IN RED WINE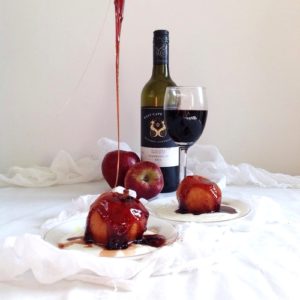 INGREDIENTS
1 cup red wine
1 cup water
¾ cup granulated white sugar
½ cup fresh orange juice
2 orange peel
1 cinnamon stick
2 tablespoons lemon juice
2 medium apples, peeled
½ cup yoghurt
2 tablespoons honey
In a milk-pan, combine wine, water, sugar, orange juice, and lemon juice with the cinnamon stick and orange peel and bring it to a boil over medium heat.
Reduce the heat to low and add apples and let it simmer until tender.  This may take about 15-20 minutes.
Once the apples are tender, take the apples,  the cinnamon stick and the orange peels out of the milk-pan.
Increase the heat to high and let the wine mixture cook until it becomes a thick syrup.
To serve, combine yoghurt and honey. Place the apples on the yoghurt and drizzle with the red wine syrup.
Recipe by
Bake with Shivesh
at https://bakewithshivesh.com/apples-poached-in-red-wine/