Oats and Banana Pancakes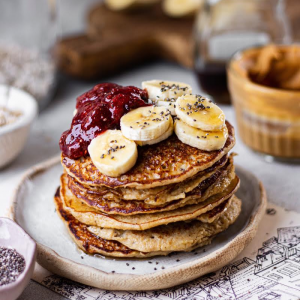 1+1/2 cup rolled oats
2 large bananas
2 eggs OR 2 flax eggs (6 tbsp ground flax with 2 tbsp water, mix and allow to rest for 5 minutes)
1 tsp vanilla extract
½ cup milk
½ tsp cinnamon powder
2 tbsp vegetable oil/melted butter
3 tbsp maple syrup/honey/caster sugar (optional)
In a food processor or a bowl, add the oats.
Add mashed bananas. Then, add the eggs or flax egg mixture.
Pour the vanilla.
Then, add the milk and some cinnamon powder.
Add the vegetable oil/melted butter.
Give it a mix.
Allow to rest for 15 minutes.
Heat a non-stick pan and brush slightly with vegetable oil.
Using an ice-cream scooper or a proper ladle to pour the batter onto the saucepan. Allow to cook on low heat. After you see bubbles on one side, flip and allow to cook.
Serve with chia jam and fresh bananas.