Red Velvet Crinkle Cookies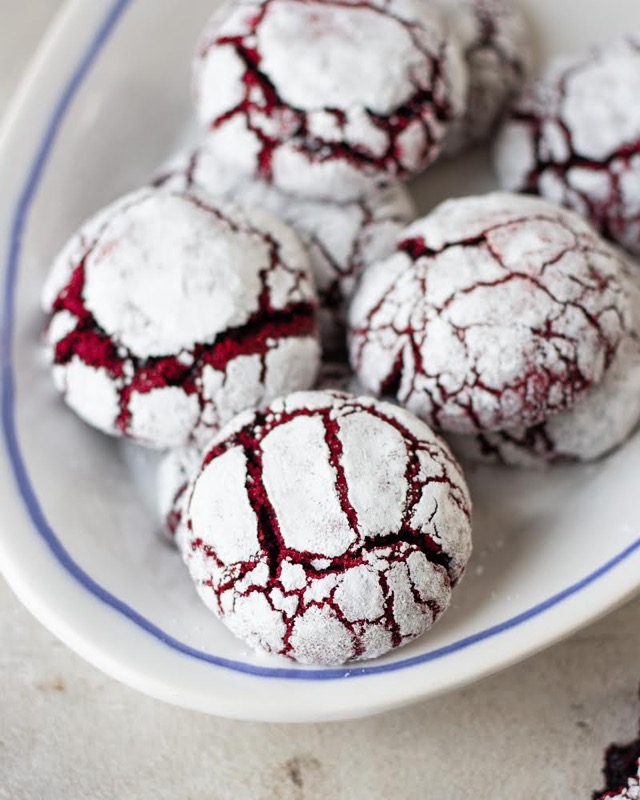 Red velvet crinkle cookies
INGREDIENTS-
¼ cup butter, softened
⅓ cup castor sugar
¼ cup brown sugar
1 egg
½ tsp vanilla extract
¾th tsp milk
1 tbsp red food colour
1 cup all purpose flour
¼ cup cocoa powder
½ tsp baking soda
A pinch of baking powder
½ cup castor sugar ( for coating the cookies)
½ cup icing sugar (for coating the cookies)
In a large bowl, beat the butter and both the sugars until smooth and fluffy.
Add the egg and mix until well combined.
Add the vanilla extract, milk and the red food colour and mix well.
Add the flour, cocoa powder, baking soda and baking powder and mix until the dough consistency is achieved.
Chill the dough in the refrigerator for 1 hour.
Preheat the oven at 180C and line a baking tray with a silicon mat or parchment paper.
Scoop out equal balls of the cookie dough and coat them in castor sugar followed by icing sugar and place them on the prepared tray.
Bake for 15-18 minutes until it cracks on top and the edges are well baked.
Recipe by
Bake with Shivesh
at https://bakewithshivesh.com/red-velvet-crinkle-cookies/