Mocha Bundt Cake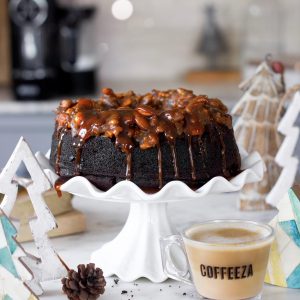 1 + ½ cups all-purpose flour
¾ cups cocoa powder
½ tsp baking soda
1 tsp baking powder
2 teaspoons espresso powder
¾ cup butter, softened
1 + ¼ cup castor sugar
2 eggs
½ cup milk
1 cup granulated sugar
½ cup butter
½ cup cream
1 shot brewed expresso
1 cup mixed nuts
Pre-heat the oven to 180C. Line a 9"round cake tin/ bundt pan with parchment paper
Whisk cocoa, flour, baking soda, baking powder, and espresso powder into a bowl.
In a large bowl, beat together butter and sugar until the mixture is light and fluffy.
Add in the eggs and mix well.
Add the flour mixture to the wet ingredients alternating with milk, starting and ending with flour mixture. Mix only until well combined. Don't over mix.
Pour the batter into the pan and bake at 180C for 30-40 minutes or until a toothpick inserted in the center comes out clean
Carefully demold the cake and let it cool.
To make the caramel, heat the sugar in a saucepan over medium heat until an amber color is achieved.
Add the butter and mix until completely melted and mixed.
Add the cream whisking constantly as the mixture will bubble vigorously.
Transfer the caramel to a clean bowl and add to it the shot of espresso.
Fold in the mixed nuts and allow to cool slightly.
When the caramel mixture is still runny but not very hot, pour it over the cake.