SPIDER COOKIES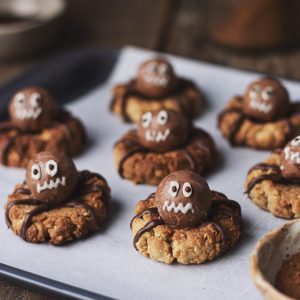 ½ cup butter
½ cup castor sugar
¼ cup brown sugar
1 egg
1 cup flour
2 teaspoon baking soda
2 teaspoon ginger powder
1 cup rolled oats
8-9 lindor
½ cup melted dark chocolate
¼ cup melted white chocolate
Preheat the oven 180 degrees and line a baking tray with silicon mat or parchment paper.
In a bowl beat together the butter, castor sugar and brown sugar.
Add the egg and mix until everything is well combined.
In a separate bowl whisk together flour, baking soda and ginger powder.
Add the dry ingredients to the butter mix and mix well.
Add the oats to the prepared dough and mix well.
Chill the dough in the refrigerator for 30 minutes.
Using an ice cream scoop, transfer the batter onto the prepared baking tray.
Press down the dough and Bake the cookies at 180 degrees for 15-20 minutes.
Let the cookies cool on the wire wrack for 15-20 minutes.
Transfer the dark chocolate and white chocolate to separate piping bags.
Using the white chocolate make eyes and a mouth on each lindor.
Now using the dark chocolate make a dot inside the eyes.
Stick the lindor using dark chocolate on top of the cookie.
Now using the dark chocolate pipe thick lines starting from the lindor till the end of the cookie to make legs of the spider. Make 8 legs on each cookie.