Stone Fruit Cake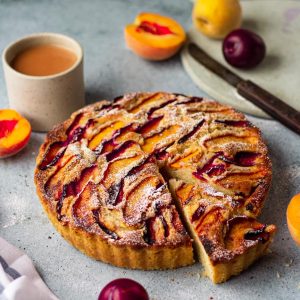 2 cups all-purpose flour
2 tsps baking powder
1 pinch of salt
1 tbsp orange zest
¾ cup vegetable oil
1 cup castor sugar
4 eggs or 2 cups yogurt
¾ cup milk
1 tbsp vanilla essence
2 large peaches sliced
4 plums sliced
Pre- heat the oven to 180 degrees. Grease a 9′′ round tart pan.
In a medium bowl, whisk flour, baking powder, salt and orange zest.
In a large bowl, using an electric mixer, beat oil and sugar until light and pale. With mixer on low, beat in eggs one at a time.
Add vanilla and mix well.
Alternately, beat in flour mixture and milk, beginning and ending with flour mixture. Mix just until combined.
Pour the batter into the tin and layer the peach and plum slices on top .
Bake at 180C until an inserted toothpick comes out clean. It should take about 30-32 minutes.