Eggless Peanut Butter Cookies with Chocolate Chips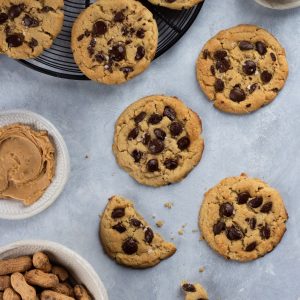 ½ cup (113g) butter, softened
½ cup (100g) castor sugar
½ cup (100g) light brown sugar
1 (5mL) teaspoon vanilla extract
½ cup (135g) smooth peanut butter
1 + ¼ cup (150g) all-purpose flour (maida)
1 tablespoon (12g) corn flour
½ teaspoon (3g) baking soda
¼ cup (60mL) milk
½ cup (88g) chocolate chunks
sea salt, to top
In a large bowl, beat butter with brown and castor sugar on high speed. Beat well for 5 minutes.
Beat in the vanilla extract and the peanut butter. Mix well.
Turn the mixer to low speed and add flour, corn flour and baking soda. The dough will be extremely thick and dry at this stage.
Add the milk and beat until the dough comes together.
Pop the dough into the refrigerator overnight or for at least 4 hours.
Pre-heat the oven to 180c. On a baking tray lined with parchment paper/ silicon mat, scoop the cookie dough in equal sized balls.
Use your fingers to gently press the dough balls to flaten them a little. Top with chocolate chips
Bake the cookies for 12-15 minutes-only until the edges are golden-brown. Top them with sea salt
Let the eggless peanut butter cookies sit on the baking tray for another 10 minutes before you lift them.
Recipe by
Bake with Shivesh
at https://bakewithshivesh.com/eggless-peanut-butter-cookies/