BLACK FOREST PAVLOVA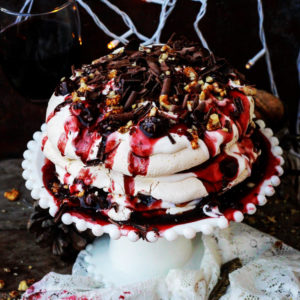 4 egg whites
2 cups castor sugar
1 tsp coffee powder
1 cup cherry compote
½ Merlot from Big Banyan
1 cup whipped cream
¼ cup chocolate shavings
¼ cup crushed walnuts
With an electric mixer beat egg whites until they double in volume.
With the mixer running, add the sugar, one tablespoon at a time.
Keep mixing at high speed until stiff peaks form.
Spread in a baking trey and bake at 100C for 1 hour.
To make the filling, in a saucepan set over medium heat, bring the cherry compote and Merlot to a boil.
To assemble the pavlova, fill the layers with whipped cream and cherry filling . Top the pavlova with cherry filling, chocolate shavings and walnuts.