BREAKFAST TEA SCONES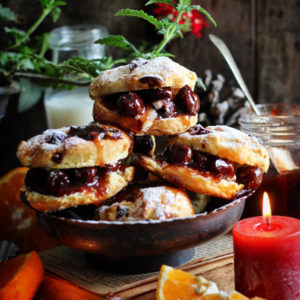 ⅔ cup milk
2 tea pacs of Breakfast Tea
2 cups all purpose flour
1 tsp baking powder
40gm cold butter, cubed
1 tbsp sugar
zest of one orange
½ cup dried cranberries
1 tbsp milk, to brush on top of scones
cherry jam and whipped cream, to serve
In a saucepan set over medium heat, heat the milk with the Breakfast tea. Bring to a boil and then let it cool.
Mix together flour, baking powder and sugar. Using your hands, break in the cold butter.
Make a well in the centre and add the tea infused milk. Add orange zest and mix until combined.
Transfer the dough on a lightly floured surface and add cranberries on top. Using your hands, slightly flaten the dough.
Using a cookie cutter, cut out the scones. Brush the tops with milk.
Bake at 200C for 12-15 minutes. Serve with cream and jam.