BEST HOMEMADE SPICED HOT CHOCOLATE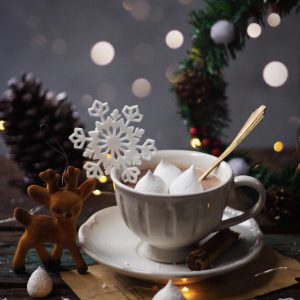 1 cup milk (250mL)
2 tbsp (30g) sugar
2 tbsp (16g) cocoa powder
½ tsp (3g) cinnamon powder
¼ tsp (2g) ginger powder
1 tbsp (6g) orange zest
1 cup (100g) dark chocolate, chopped
splash of vanilla extract, optional
meringue kisses, optional
Combine milk, orange zest and sugar in a saucepan and place on medium heat.
Add cocoa powder and the spices one by one.
Melt the broken chocolate in the microwave or on hot water while the milk is heating on low heat.
Remove the milk from the stove as soon as it starts bubbling, then slowly and carefully stir in the melted chocolate.
Add the vanilla extract.
Top with meringue kisses, and enjoy!
Recipe by
Bake with Shivesh
at https://bakewithshivesh.com/best-homemade-spiced-hot-chocolate/