SALTED CARAMEL BARS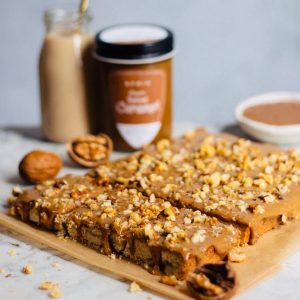 1 cup (120g) flour
¼ cup (50g) cinnamon infused brown sugar
½ cup (113g) butter, softened
1 egg yolk
2 cups (450g) salted caramel
½ cup (63g) crushed walnuts
Pre-heat the oven to 180*C.
In a large bowl, combine flour and sugar.
Add the better. Beat in the egg yolk until the dough begins to come together.
In a rectangular pan ( 9X14") lined with parchment paper, spread the dough in an even layer.
Bake at 180*C for 20 minutes or until it is golden-brown.
Once the base has cooled completely, spread a generous layer of salted caramel on top. Top with crushed walnuts.
Let it set in the fridge for 30 minutes before you slice the bars.