EGGLESS CHOCOLATE LAVA CAKE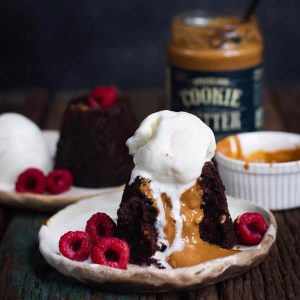 4 tablespoons (57g) cookie butter/ peanut butter
⅓ cup (67g) castor sugar
½ cup (120ml) hot water
2 tablespoons (30ml) vegetable oil
½ cup (60g) all-purpose flour
4 tablespoons (30g) cocoa powder
½ teaspoons (3g) baking soda
ice cream and raspberries to serve
On a trey, place 4 tablespoons of cookie butter in four round balls and freeze them.
Pre-heat the oven to 180C. Generously brush 4 small cake pans/ ramekins with melted butter.
In a large bowl, combine sugar, water, and oil. Beat well.
Fold in the flour, cocoa powder and baking soda. Mix until everything is well combined and there are no lumps in the batter.
Pour the batter into the prepared ramekins.
Push the frozen ball of cookie butter into the batter.
Bake the cakes at 180C for 15 minutes until the cakes are cooked through.
Your eggless chocolate lava cakes are ready. Serve warm with ice-cream and berries.
Recipe by
Bake with Shivesh
at https://bakewithshivesh.com/eggless-chocolate-lava-cake/