CHRISTMAS SHORTBREAD COOKIES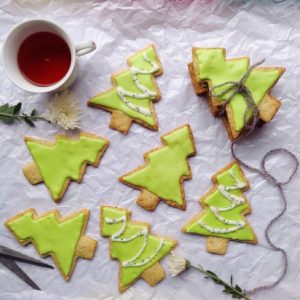 2 cups butter, softened
1 cup castor sugar
2 tsp vanilla extract
4 cups all purpose flour
2 egg whites
4 cup icing sugar, sifted twice.
Green food colour
Pre-heat the oven to 180*C
Cream the butter and sugar until fluffy. Stir in vanilla
Add flour and mix well. Mix until the dough comes together.
If the butter is too soft, cling wrap the dough and refrigerate until it is tough enough to work with.
Roll out the dough into a ¼ of an inch thick circle.
Use a cookie cutter to cut the dough into the desired shape.
Bake for 10-12 minutes until the edges become golden-brown. Le them cool completely before trying to lift them off the tray.
Beat egg whites in a large bowl using a whisk or a spoon
Add sifted icing sugar, half a cup at a time. Whisk well.
Keep adding sugar until you achieve the desired consistency. If the icing is still runny, add more sugar.
Add  half tsp of green food colour and mix well.
Recipe by
Bake with Shivesh
at https://bakewithshivesh.com/christmas-shortbread-cookies/