DOUBLE CHOCOLATE GRANOLA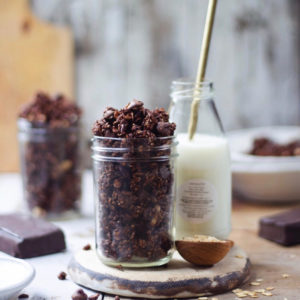 1 cup traditional oats
½ cup white quinoa
¼ cup roughly chopped walnuts
¼ cup flax seeds
¼ cup assorted seeds
¼ cup pine nuts
½ cup cocoa powder
1 teaspoon cinnamon powder
½ teaspoon ginger powder
zest of one orange
½ cup honey/maple syrup
½ cup chocolate chips
Pre-heat the oven to 180C.
In a large bowl combine oats, quinioa, walnuts, seeds and pine nuts.
Mix in the cocoa powder.
Add cinnamon powder, ginger powder and orange zest. Mix well.
Add the honey/maple syrup and mix until everything is well combined.
Transfer the mixture onto a baking trey lined with parchment paper.
Bake at 180C for 15-20 minutes.
Once the granola is out of the oven, add the chocolate chips.
Store the double chocolate granola in an air-tight container.