EASIEST FROZEN RASPBERRY YOGURT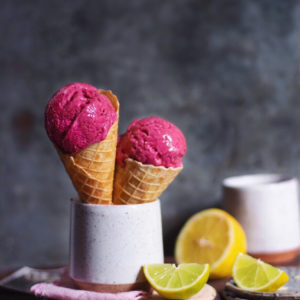 1 + ½ cup (360g) yogurt
1 cup (200g) caster sugar
3 cups (300g) frozen raspberries
4 teaspoons (20mL) fresh lime juice
In a food processor, combine yogurt, caster sugar, frozen raspberries and lime juice. Blend until everything is well combined.
Transfer the mixture to a freeze safe container. If you are using an ice-cream maker, freeze the yogurt for 1 hour and then churn it in the ice-cream maker according to the manufacturer's instructions.
If you don't have an ice-cream mixer, simply freeze the raspberry yogurt over night. It tastes equally yummy.
The frozen raspberry yogurt is ready.
Recipe by
Bake with Shivesh
at https://bakewithshivesh.com/easiest-frozen-raspberry-yogurt/