EGGLESS CHOCOLATE-CHIP COOKIE BARS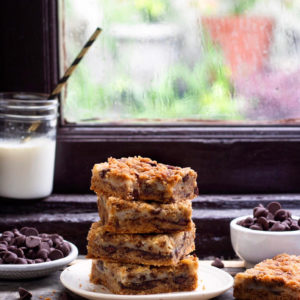 1 cup (227g) butter, melted
½ cup (100g) light brown sugar
½ cup (100g) castor sugar
2 + ¼ cup (270g) all-purpose flour (maida)
1 teaspoon (6g) baking soda
4 tablespoons(60mL) milk
½ cup (88g) chocolate chips
1 cup (225g) cream cheese, softened
¼ cup (30g) icing sugar
1 tsp (5mL) vanilla extract
Pre-heat the oven to 180C. Line a 9X9 square pan with parchment paper, leaving extra on at least 2 sides to make handles. This will help you lift the bars off the pan.
In a large bowl, combine melted butter, brown and castor sugar.
Fold in the flour and baking soda. The dough will be very very thick.
Add milk. Fold in the chocolate chips.
To make the cream cheese layer, beat all the ingredients together until everything is well combined.
Keeping ¼ th of the cookie dough aside, spread the rest of it into the bottom of the prepared pan in an even layer.
Spread all the cream cheese mixture over the cookie dough.
Sprinkle rest of the cookie dough on top of the cream cheese layer.
Bake the cookie bars at 180C for 30-40 minutes or until the cookie dough is golden-brown.
Let the eggless chocolate chip cookie bars cool completely at room temperature. Refrigerate them for at least 1 hour before slicing them.
Recipe by
Bake with Shivesh
at https://bakewithshivesh.com/eggless-chocolate-chip-cookie-bars/