4 LAYER CHOCOLATE CAKE TIRAMISU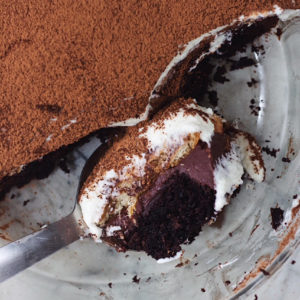 1 8" chocolate cake
1 cup dark chocolate ganache
8-10 lady finger biscuits
1 tsp coffee powder
¼ cup boiling water
1 cup mascarpone cheese
½ cup icing/powdered sugar
1 cup whipped cream
cocoa powder, to dust
In a shallow circular dish, place the chocolate cake.
Cover the chocolate cake with a generous layer of dark chocolate ganache.
In another dish, pour boiling water over coffee powder.
Dip the lady finger biscuits into the coffee. The biscuits soak up the liquid very very quickly, so be careful.
Arrange the soaked biscuits on the chocolate ganache.
In a large bowl, beat mascarpone cheese and icing sugar together. Carefully fold in the whipped cream.
Spread the mascarpone mixture on the lady finger biscuits. Dust with cocoa powder on top.
Let the chocolate cake tiramisu set in the fridge for at least one hour.
Recipe by
Bake with Shivesh
at https://bakewithshivesh.com/chocolate-cake-tiramisu/