EGGLESS PEANUT BUTTER CHOCOLATE BARS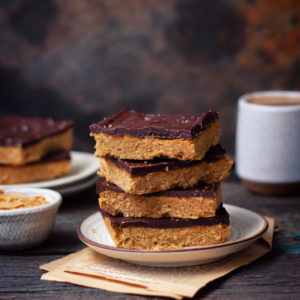 1 cup peanut butter
½ cup butter, melted
⅓ cup icing sugar
1 cup whole wheat flour
1 cup rolled oats
½ cup honey
1 cup 70% dark chocolate, coarsely chopped
2 tablespoons vegetable oil
1 teaspoon coarse sea salt
Pre-heat the oven to 180C. Line a square/ rectangular pan with parchment paper leaving extra on two sides to make handels
Heat the peanut butter in the microwave for 15-20 seconds. Add melted butter and mix well.
Mix in the icing sugar
Fold in the whole wheat flour and oats. Mix in the honey until the dough comes together.
Use your fingers to spread the dough into the pan in an even layer. Bake at 180C for 20-30 minutes until the bars are golden-brown.
Melt chocolate with vegetable oil in the microwave until it is smooth and there are no lumps.
Pour the melted chocolate on the peanut butter bars. Sprinkle sea salt on top.
Refrigerate the eggless peanut butter chocolate bars for at least 30 minutes before slicing them.
Recipe by
Bake with Shivesh
at https://bakewithshivesh.com/eggless-peanut-butter-chocolate-bars/