Triple Chocolate Banana Bread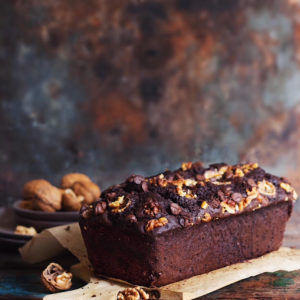 ½ cup  ( 113g) salted butter, melted
½ cup (88g)  dark chocolate, melted
1 cup (200g) caster sugar
2 eggs, lightly beaten ( or 1 cup Greek Yogurt) 285g
3 mashed bananas ( 1 cup)
2 cups (240g) all purpose flour
½ cup (50g) cocoa powder
½ tsp (2g) baking powder
½ tsp(3g) baking soda
½ tsp (2g) cinnamon powder
¼ cup(60mL) milk
½ cup (63g) crushed walnuts
½ cup (88g) chocolate chips
Pre-heat the oven to 180C and line  a loaf pan with parchment paper
In a large bowl, combine melted chocolate and butter.
Mix in the caster sugar.
Beat in the eggs and mix well.
Beat in the mashed bananas. Mix until everything is well combined.
In a separate bowl, whisk together flour, cocoa powder, baking powder, baking soda and cinnamon powder.
Using a spatula fold the dry ingredients into the wet ingredients. Mix only until everything is incorporated and there are no large flour pockets.
Whisk in the milk.
Fold in the walnuts and chocolate chips.
Pour the batter into prepared loaf pan. If you like, top with more crushed walnuts, chocolate chips and banana slices.
Bake at 180C for 30-40 minutes or until a skewer inserted into the center comes out clean. Your triple chocolate banana bread is ready!
Recipe by
Bake with Shivesh
at https://bakewithshivesh.com/triple-chocolate-banana-bread/