ALMOND AND APRICOT TART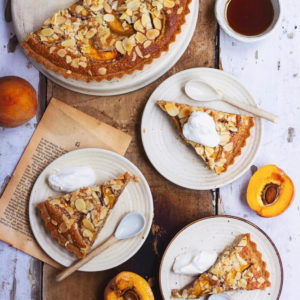 ½ cup caster sugar
¼ cup light brown sugar
½ cup butter (113 grams/ 8 tbsp), softened
1  egg yolk
1 + ¼ cups all purpose flour
½ cup caster sugar
½ cup butter, softened
2 eggs, lightly beaten
⅓ cup all-purpose flour
1 + ¼ cup ground almonds
8-10 apricot slices
⅓ cup flaked almonds
whipped cream, to serve
Pre-heat the oven to 180C.
In a large bowl, beat caster and brown sugar with softened butter
Beat in the egg yolk.
Fold in the flour and mix until the dough comes together.
Use your fingers to press the dough into the bottom and up the sides of a 9" tart pan. Refrigerate the tart shell for at least one hour or until the dough is firm.
Use a fork to prick the bottom of the tart shell and then bake at 180C for 10-15 minutes or until the tart shell is slightly golden.
Meanwhile make the filling. Beat the butter with sugar.
Beat in the eggs. Add flour and ground almonds and mix well.
Pour the filling into the half-baked tart shell.
Arrange apricot slices on top. Generously add flaked almonds.
Bake the tart at 180C for 20 minutes or until the tart is golden-brown.
Serve with whipped cream.